New multi-dimensional makeup brand inspired by South Asian consumers: Introducing Just B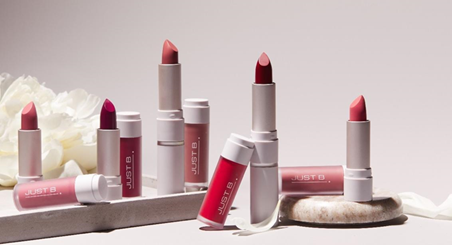 Smart, multi-dimensional makeup range inspired by South Asian Consumers, launches in the UAE
Introducing, Just B Cosmetics, high-performing customizable lipstick products
Introducing Just B, a makeup range celebrating the beauty of brown skin, formulated and created by renowned Pakistani makeup artist Bina Khan and her longtime friend and Engineering leader, Madiha Chan. The makeup range includes smart, multi-dimensional lipstick products catered to work effectively on brown skin and everyone else.

Just B, is a new eco-conscious cosmetics brand that is ready to empower every woman of color with high-performing and customizable lipstick products that sparks creativity and joy. The brand advocates that there is beauty in every colour and aims to celebrate the unique beauty of each skin tone. At the heart of the message is inclusivity, expanding the conversation to include those who have felt left out before.

"Just B was created to be the place where people with brown skin can be authentic and feel heard," said Bina Khan, co-founder of Just B. "We are addressing the needs of the South Asian community that have been neglected by the beauty industry for a long time — it has been difficult for people with brown skin to find lip shades that work well with their skin, and more importantly, lip tones. Lip Spectrum addresses that problem at the root."

Just B products can be worn by people of all ethnicities but aim to fill a void in the beauty community for products targeted toward brown skin tones. The brand's debut product is called Lip Spectrum which is a multi-dimensional lipstick with one deeper shade and one lighter shade in a color family. It is available in five shades; Not Just Champagne, Not Just Peach, Not Just Pink, Not Just Magenta and Not Just Red that inspire creativity as colors can be mixed and matched to create countless looks. Each Lip Spectrum also offers two textures; a Pigment Fluid, which creates a breathable matte finish and a Pigment Glaze, which provides a smooth-cream finish. While each color can be used as a stand-alone color and texture, they are designed to be used together to unlock their superpowers. With every use you get a perfect blend just for you that leaves a light and breathable layer with long-lasting pigment.

"Being a South Asian myself, I've had the challenge of finding the right lipstick shade that really works well with my skin tone. Mixing different layers of products just to have a shade that works for me was a daily struggle. With Just B, we want to show you that we see beauty in you and we are here to offer you that perfect companion to show it off! Whether you want to put your inside mood on the outside, or you need something to feel ready for the day or a night out, our makeup is here to empower you." says Madiha Chan, co-founder of Just B.

Just B's Lip Spectrums are launching in the UAE on 5th December 2021, available for purchase at www.justbcosmetics.co.