Tom Ford Eyewear
user
January 3, 2022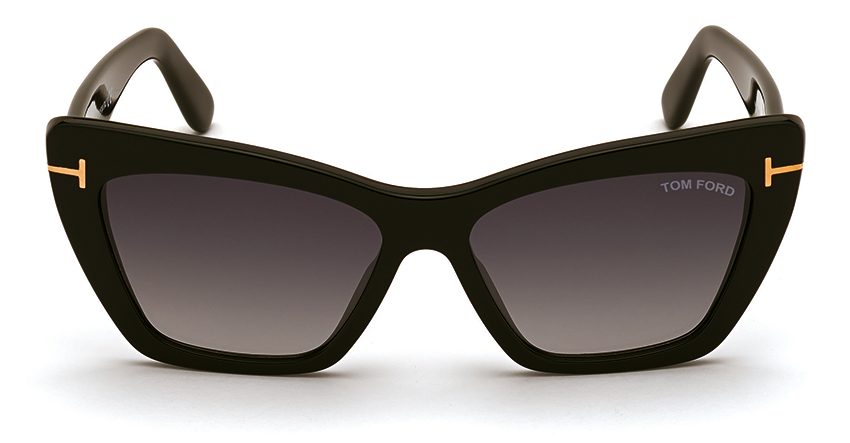 Tom Ford believes in the power of eyewear – the first accessory that gets noticed. His Spring/Summer 2022 collection delivers high-style high function while providing the diversity essential to satisfy the varied moods and personalities of the Tom Ford customer. Classic motifs get subtle upgrades of style; for example, the iconic infinity cross-bridge design enhances the authoritative pilot. More fashion-driven frames reflect both vintage and current references. Ford's defining aesthetic found its roots during his youth in the Seventies. That decade continues to inform his work in offerings such as the oversized, angular Jacquetta and the Fonda, with soft angles that deliver a new twist on "round." Eccentricity comes through in the Wyatt, a hipster update of the Fifties-inspired cat-eye frame. An alternative, modernist sensibility surfaces variously in the bold geometry of the Renee and in the minimalist Oscar, a lightweight, flat frame with foldable temples intended to fit easily into a shirt pocket.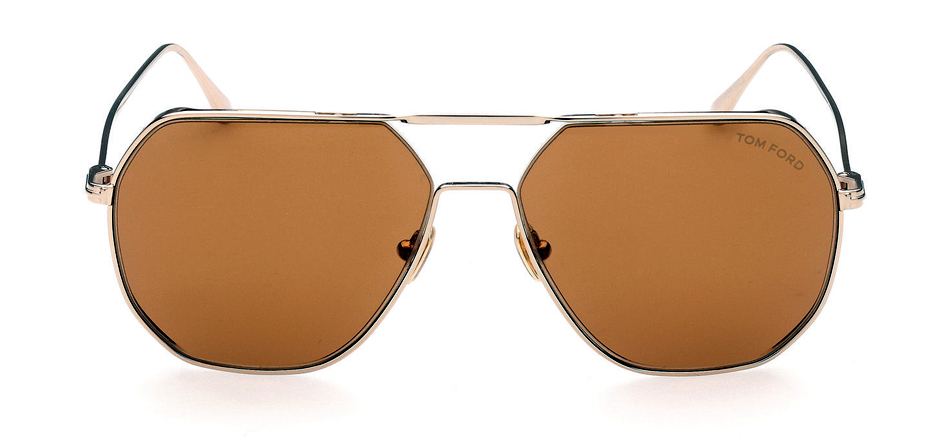 Tom Ford Eyewear fuses Ford's masterful hands-on design with Made-in-Italy craftsmanship. Luxe materials and the signature, sleek "T" logo imbue even the most flamboyant shapes with sophistication.
The optical eyewear employs innovative Blue Block lens technology which improves visual comfort and reduces the eye strain that often results from extended screen time.
SUNGLASSES COLLECTION: STYLE HIGHLIGHTS
FT0847 – Renee
A fashion-forward take on a classic style. This ADV acetate frame features bold lines, thick temples, the signature 'T' logo and Blue Block lenses.
FT0852 – Gilles-02
A modified geometric pilot style. The frame is characterized with a metal double bridge is characterized featuring a thick lens and the iconic 'T' logo on each side.
FT0853 – Charles-02
A pilot shape with a subtle geometric twist. This modernist metal frame features a double bridge, adjustable nose pads, and slim temples with the 'T' logo.
FT0871 – Wyatt
A hipster update on the classic cat-eye shape. This frame features wide temples, the Tom Ford 'T' logo and a cheeky attitude.
FT0880 – Todd
Original square shape. Crafted from mix of plastic and metal, this lightweight frame was designed to fit into a pocket.
FT0881 – Oscar
A modern take on a vintage aviator. Crafted in a combination of metal and plastic with innovative foldable temples, the frame becomes ultra-slim with a simple click.
FT0904 – Aurele
A round style in acetate with key bridge and essential design perfect for everyday wear. Emanating a refined minimalism, this classic chic style also features the iconic 'T' logo.
FT0907 – Dunning-02
A vintage avantgarde frame in acetate that stands out for the bold front and tapered temples which conveys a timeless allure. The iconic 'T' logo accentuates the youthful square style.
FT0909 – Samson
A timeless pilot style with double bridge, characterized by sleek combination between acetate front and metal temples. The subtle 'T' logo defines the frames on the side, bringing a new iconic element to the range.
FT0910 – Crosby
A stylish square. The frame features a double bridge and side spoilers. The acetate front plays against metal temples to chic effect.
FT0914 – Olivia-02
Beautifully bookish. This acetate butterfly frame is available in multiple color ways, suiting looks from sweet to seductive.
FT0915 – Isabella-02
An enlarged cat eye-shape. This trendy acetate is characterized by essentials sinuous lines and features the iconic metal 'T' logo for a statement look.
FT0952 – Selby
A modern square style in acetate with wide front and minimalist design is characterized by bold lines. Perfect for an everyday elegant look.
FT0965 – Cassius
A futuristic take on the pilot frame. This bold frame varies curvature and thicknesses to avant-garde effect.
OPTICAL COLLECTION: STYLE HIGHLIGHTS
FT5748-B
A trendy square style in metal. Characterized by original acetate endtips and black rim enamel color on the front. The optical frames come in adjustable nose pads and blue block lenses for comfort.
FT5749-B
A trendy round style in metal with thin yet confortable structure that conveys elegance and lightness. Embossed with signature 'T' logo on the front and tempales along with adjustable nose pads.
FT5750-B
A metal square style. Characterized by rim enamel on the front, nose pads and metal 'T' iconic logo. A minimalistic and comfortable style perfect to wear everyday.
FT5751-B
A trendy navigator style. This frame has a unique combination between metal front and acetate temples. A vintage mood for a timeless aesthetic.
FT5752-B
A modern soft square style. The optical frame is distinguished by essential lines made to structure the face for an easy to wear look.
FT5754-B
A modern soft square style in acetate, characterized by minimalist design and a soft transparent outer frame. Available in trendy colors, the frame adorns metal 'T' logo and blue block lenses. unique
FT5758-B
Square style with a distinctive combination between acetate front and metal thin temples for a smart casual look
FT5759-B
A trendy round style with key bridge and characterized by a unique combination between acetate and metal.
FT5762-B
A soft cat eye acetate style with minimalistic design, featuring the iconic 'T' logo. A trendy frame for the classic and refined woman.
FT5770-B
A fashionable soft cat eye style. A sleek combination between acetate front and metal temples with endtips that embellish the frame.

FT5772-B
A soft cat-eye shape. This acetate frame does double duty, featuring Blue Block optical lenses and magnetic clip-on sunglasses.
FT0964 – Drew
A wide pilot style with its roots in the 70s. This acetate frame features tubular lines and thin temples with the metal 'T' logo.
FT5760-B
A stylized pilot style. Crafted from acetate, this frame is part of an exciting range with magnetic clip-on sunglasses. Twelve magnets guarantee the perfect grip and a flawless fit.