A full-proof skincare routine for the transitional months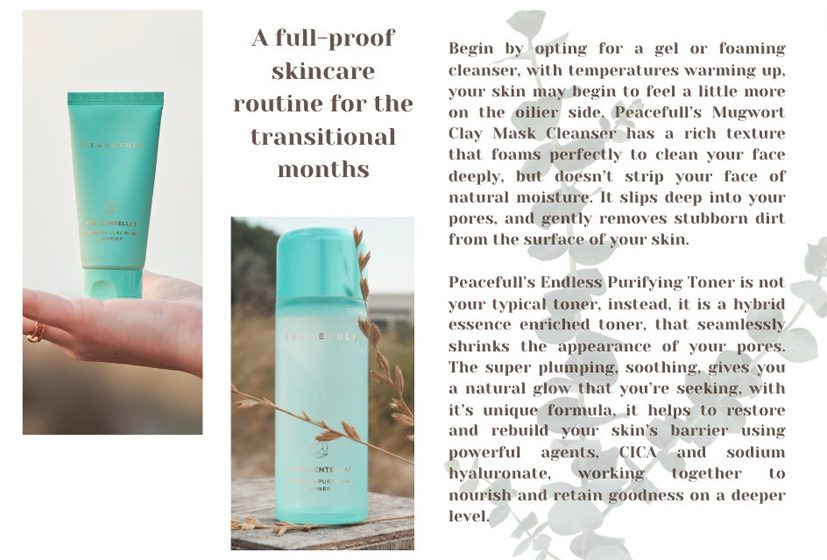 As the Middle Eastern heat slowly nears, it's time to swap out your nourishing winter favourites for lighter options.
Begin by opting for a gel or foaming cleanser. With temperatures warming up, your skin may feel a little more on the oilier side. Peacefull's Mugwort Clay Mask Cleanser has a rich texture that foams perfectly to clean your face deeply but doesn't strip your face of natural moisture. Instead, it slips deep into your pores and gently removes dirt from the surface of your skin.
Peacefull's Endless Purifying Toner is not your typical toner but a hybrid essence-enriched toner. The plumping and soothing formula gives you the natural glow you seek, helping to restore and rebuild your skin's barrier using powerful agents, CICA and sodium hyaluronate, working together to nourish and retain goodness on a deeper level.
All skin needs hydration, but it's time to switch out heavier, thicker products with lighter layers of hydration, so you can step outside without feeling like you will turn into a greasy mess. The Ever Glow Moisturiser melts smoothly like butter and sinks deep into your skin with zero stickiness, greasiness and oiliness. It also comes with a built-in silicon applicator to sculpt like no other!
No matter the weather, there's always one product you should always take advantage of. What's that? The Peptide Eye Cream. It changes the game with its snow-like melting texture and delivers advanced skin-caring and lifting benefits thanks to its superhero – PEPTIDE.
Please let me know if you would like to feature these products from Peacefull in your edit, or require products for a shoot.
Brand profile: @peacefull