OPPO Launches OPPO Enco Air3 Pro: World's First Bamboo-Fiber Diaphragm Earbuds with LDAC Hi-Fi and 49dB Adaptive ANC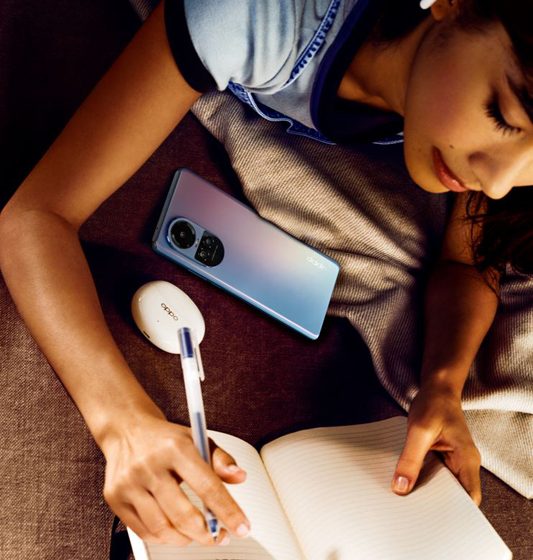 The recently launched OPPO Enco Air3 Pro features the world's first bamboo-fiber diaphragm, delivering a natural and high-quality sound experience
Boasting advanced features like Golden Sound 2.0, Enco Master tuning, and OPPO Alive, the earbuds provide an immersive audio experience
Equipped with 49dB adaptive ANC and other features like impressive battery life and intuitive smart connectivity, the OPPO Enco Air3 Pro is every music enthusiasts dream
Dubai, UAE, 6 September 2023 – Global technology brand OPPO's recently launched wireless earbuds, the OPPO Enco Air3 Pro, boast the world's first bamboo-fiber diaphragm, providing users with a natural and high-quality sound experience. Thanks to LDAC hi-fidelity transmissions, these earbuds can deliver Hi-Res Audio gold-certified acoustic performance, ensuring that even the finest sound details are accurately reproduced.
With its 49dB adaptive ANC (Active Noise Cancellation), the OPPO Enco Air3 Pro delivers an ultra-immersive listening experience. Additionally, the earbuds feature OPPO Alive surround-sound effects, Golden Sound 2.0, 30 hours of battery life, and more, enhancing the overall audio experience further.
The world's first bamboo fiber diaphragm with high-resolution sound
Inspired by the ancient bamboo papermaking process, the OPPO Enco Air3 Pro is the first to use bamboo-fiber diaphragms in an earphone. The exquisite bamboo fibers are carefully extracted through a meticulous process, pressed into bamboo fiber flakes, and crafted into a diaphragm that fits into the earbud.
When compared to common titanium-plated diaphragms, the bamboo fiber diaphragm has three major advancements. First, it is 60% lighter, enabling faster response to sound changes. Next, it is 56% more rigid, making it less susceptible to deformation and distortion. Finally, the diaphragm's internal damping is 63% more elastic, further reducing noise. These innovations allow the earbuds to easily break through the 40kHz barrier and produce high-fidelity sound that is gentle and alluring, delivering an exceptional audio experience.
The OPPO Enco Air3 Pro feature an optimized front sound cavity layout, allowing the bamboo fibers to bring natural and clear sounds at high frequencies, while a custom bass condenser adds weight to low frequencies, so users can feel the elevated audio performance.
In terms of transmission, the OPPO Enco Air3 Pro supports the LDAC protocol, which can transmit audio at a bit rate of up to 990kbps, preserving every detail in the audio. This allows for high-resolution transmission on most Android 8 or above mobile phones HWA gold-compliant audio support.
The OPPO Enco Air3 Pro offers advanced features, including Golden Sound 2.0, Enco Master tuning, and OPPO Alive. Golden Sound 2.0 creates a personalized model of the user's ear canal to deliver accurate and detailed sound. Enco Master tuning supports switching between three preset tunings for different sound styles, and OPPO Alive provides immersive theater-level surround sound effects.
Adaptive ANC for the best listening experience
The OPPO Enco Air3 Pro delivers a breakthrough in adaptive ANC performance, with 49dB adaptive ANC which covers various daily life scenarios effectively. It has been certified by TÜV Rheinland, a reflection of its remarkable performance and capabilities. The earbuds also come with Transparent Mode, allowing users to stay connected to the outside world and communicate with friends without having to take the earbuds off.
The Adaptive ANC function automatically switches to the noise cancellation profile based on the user's surroundings, ensuring a quiet and comfortable listening experience during activities like commuting, travel, office, or studying. Furthermore, the OPPO Enco Air3 Pro utilizes a dual microphone + AI noise cancellation algorithm to effectively reduce ambient noise, providing clean and natural-sounding calls. Moreover, the wind noise cancellation algorithm effectively suppresses wind noise, allowing users to enjoy music and clear calls even in windy environments.
All-rounded exquisite performance
Besides an exquisite sound quality and adaptive ANC, the OPPO Enco Air3 Pro also features intuitive smart controls, impressive battery life, a gradient design, and various other features catered to meet the demands of music lovers.
The OPPO Enco Air3 Pro earbuds allow users to connect to two devices simultaneously, eliminating the hassle of having to disconnect and reconnect to switch between devices. Users can seamlessly switch audio playback from one device to the other.
In terms of battery life, the earbuds have a rated battery life of 7 hours on a single charge and provide up to 30 hours of usage when using the charging case. Fast charging support allows for 2 hours of listening time with just a 10-minute charge. The Bluetooth 5.3 technology offers 47ms earphone latency, more stable connections, as well as synchronized audio and content.
The design of the OPPO Enco Air3 Pro adopts a gradient design on the charging case, resembling the natural look of clouds in the sky. The earbuds and charging case are compact and portable, making them ideal for on-the-go use. Additionally, they are rated IP55 for dust and water resistance, making them suitable for outdoor sports.
The OPPO Enco Air3 Pro is available for purchase across OPPO's website and retail partner stories and priced at Dhs349.