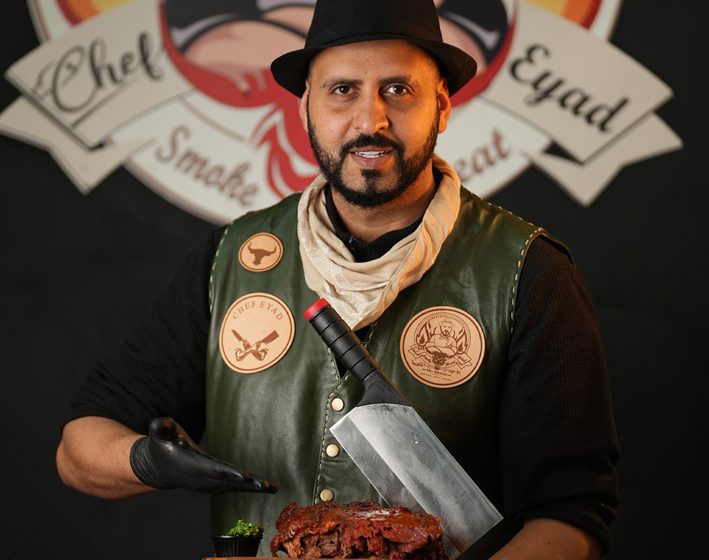 Dubai's Hottest Smoked Meats' Joint Has Arrived
'CHEF EYAD'
Watch videos here: https://we.tl/t-Qpy3TaMIzg
Dubai, May 2022 – Centred around the concept of fun, food, and fire; Chef Eyad Smoked Meats Restaurant is now open on Sheikh Zayed Road, specialising in tantalizingly tender and flavoursome fall-off-the-bone meat, smoked with all-natural charcoal. The lively restaurant features dancing butchers and servers, impressive fire and knife action from the open kitchen, and lots of Instagrammable interaction for diners.
Chef Eyad became famous in his homeland for his delicious barbecue and smoked meats, cooked in his own bespoke smokers, and seasoned with a unique fusion of Levant spices and the contrasting flavours of a sumptuous Texan Barbecue. The tender and tasty cuts of USDA Prime Black Angus Beef and Local Lamb are coated in Chef Eyad's 'secret seasoning' and then marinated and smoked for 8 to 12 hours depending on the cut, before the finishing fiery touches are added in the huge open kitchen. The interactive servers, who are known to regularly burst into an impromptu dabke performance, are on hand to recommend the best cuts for each guest, drizzle honey on the melt-in-the-mouth meat, advise which sauce and of course how much to order – as all the meat is sold by weight, for the true meat aficionado!
Known as 'the King of Smoked Meats' in his home city of Kafr Qasim, Ramallah and now across Bahrain and Turkey, Chef Eyad's restaurants became so popular with audiences coming to watch the meat being prepared and dine on the delicious barbecue, that they only operate on a limited first come, first served basis to meet the high demand.
Now open in Dubai, with a captivating view of the Burj Khalifa, Chef Eyad's is located on Sheikh Zayed Road near the first interchange, and has a capacity for 200 diners, with 3 separate showrooms, smoking , non-smoking and a private dining area. Enter the first-floor location via a marble staircase and be transported to a Texan grill, where the dark and moody interior is filled with leather, wood, metal grids and food photography that will have your mouth watering as you order.
Chef Eyad Opening Hours: 12 PM to late
Chef Eyad Location: https://goo.gl/maps/x13yJCpqKcq8nvJD9
Chef Eyad Reservations: Please call043433328
Chef Eyad Instagram: https://www.instagram.com/chefeyad.uae/