Majid Al Futtaim brings a taste of the Mediterranean to City Centre Mirdif with the launch of Solcasa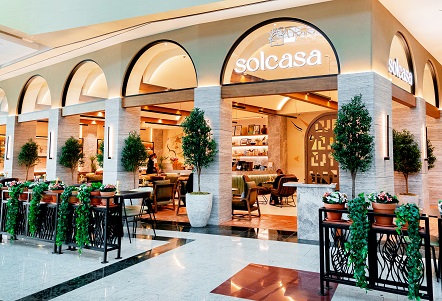 Opening marks Majid Al Futtaim's largest standalone restaurant and latest addition to its expanding F&B portfolio
Dubai, United Arab Emirates, May 2022: Majid Al Futtaim, the premier shopping mall, communities, retail and leisure pioneer across the Middle East, Africa and Asia has launched its latest gastronomic venture with the opening of Solcasa at City Centre Mirdif. The Mediterranean restaurant marks Majid Al Futtaim's largest standalone restaurant and comes just weeks after it launched Halla Food, its first hybrid digital food concept, at City Centre Me'aisem.
Recreating the ambiance of a Mediterranean courtyard, Solcasa can accommodate up to 90 guests and takes diners away from the hustle and bustle of the mall. The sharing-concept restaurant serves ingredient-driven dishes with an emphasis on locally sourced and seasonal produce. Celebrating the diverse flavours of the Mediterranean, the menu features signature dishes including Artichoke & Shallot Tart, Beef Bourguignon, Seafood Paella and Tuscan Steak Striploin. Shoppers who want to refuel after a shopping spree can also indulge in specialty coffee and delectable desserts including Sticky Date Pudding and Chocolate & Peanut Butter Fondant.
Marc Matar, Vice President, Food and Beverage, Majid Al Futtaim Leisure, Entertainment & Cinemas said, "Solcasa marks Majid Al Futtaim's largest standalone restaurant as we expand our portfolio and continue to innovate in the culinary field by bringing a taste of the Mediterranean to City Centre Mirdif. Socially connected and food-savvy consumers are driving a change in the type of dining concepts found in malls and I am confident that Solcasa will be a welcome addition given the universal appeal of Mediterranean food."
Solcasa is the latest addition to Majid Al Futtaim's expanding F&B portfolio, which boasts a broad range of homegrown concepts including Pizza Al Taglio, Top Bun, Kitchen 35, Epic Byrd, Akl El Beyt, VOX Cinemas' Candy Bar and Nutella. In the last two months, it has also launched Halla Food at City Centre Me'aisem, Top Bun at Food Central in City Centre Deira and rolled out its successful collaboration with Michelin star chef Akira Back at VOX Cinemas in Qatar and Kuwait.
The menu at Solcasa will be adapted throughout the year to incorporate seasonal ingredients and features produce from local suppliers including Hatta Honey, Mirzam Chocolate Makers, Healthy Treats and Italian Dairy Products.
Solcasa is located next to the main entrance on the ground floor at City Centre Mirdif and is open 8am-11pm (Monday-Thursday) and 8am-12midnight (Friday-Sunday).