Türkiye's Spectacular Cuisine in the Spotlight with its Original Qualities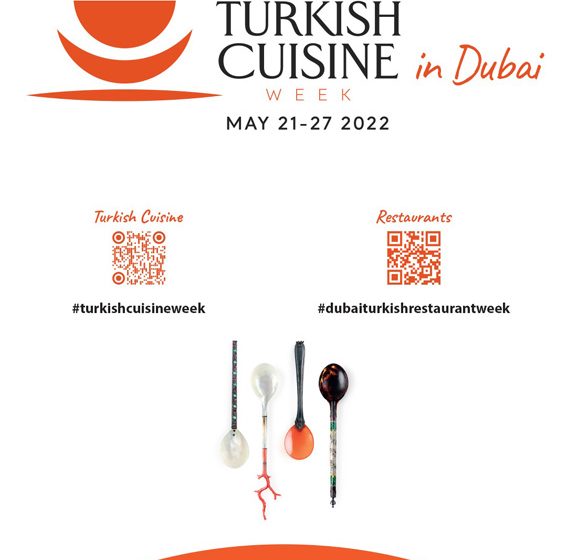 Turkish Cuisine Week in Dubai from 21 to 27 May 2022
"Turkish Cuisine Week in Dubai" organized by the Consulate General of the Republic of Türkiye in Dubai, in collaboration with the Turkish Business Council Dubai and Northern Emirates, with the support of the Ministry of Culture and Tourism. It is part of the celebrations of the "Turkish Cuisine Week" in Türkiye and abroad.
The 7-day event will run from May 21 to 27, and will offer the opportunity to savour different Turkish culinary offerings around the Emirate. The unique delicious Turkish cuisine, a defining element of the Turkish cultural identity, will be promoted throughout the week by the participating restaurants, with this first time event.
With over 42 Turkish restaurants and their 54 outlets, foodies and dinners in Dubai and the UAE will enjoy special dining experience. Throughout the week, participating restaurants will give special offers (discounts, special menus, etc.) to their guests, in order to promote Turkish cuisine (list of restaurants: https://tbcdubai.org/news/upcoming-events/turkish-cuisine-week).
Turkish Cuisine
Turkish cuisine, nurtured and shaped by the deep-rooted Anatolian history, stands out with its healthy characteristics, creative aspect, and sustainable structures. The flavours of Turkish dishes, influenced by thousands of years of history and the Seljuk and Ottoman palaces, carry a vast cultural accumulation to the present day. Dishes and meals that utilize every element of a product, without waste, reveal an ecologically sustainable tradition of taste. Offering countless options for vegetarian and vegan diets along with restorative pickles and vinegars, Turkish cuisine is also a world cuisine with the potential to respond to all dining trends.
Turkish cuisine presents to the world its legendary flavours, each of which reflects centuries-old knowledge and cultural heritage. During Turkish Cuisine Week, meals prepared with creative presentations by Türkiye's world-famous cooks will be offered to visitors in their own geography, with hospitality held in different countries. At the same time, menus created specifically for Turkish Cuisine Week in Türkiye invite both Turkish and foreign guests to experience the best examples of Turkish cuisine in restaurants.
"Our cuisine represents our cultural identity. Not only what we eat, but also what we do not eat defines our cultural identity. As such, food carries much more meaning than merely being the basic biological and nutritional requirements for human survival. Each morsel of food not only includes nutritional values but also conveys history, culture, faith and experiences. In fact, the simplest way to introduce yourself to a foreigner is introducing them to your cuisine. Turkish cuisine, combined with historical experiences is a vast treasure, a journey that dates back centuries."
H.E. Emine Erdogan, First Lady of the Republic of Türkiye
"Turkish Cuisine with Timeless Recipes"
Turkish Cuisine With Timeless Recipes (Asırlık Tariflerle Türk Mutfağı) is the gastronomy book published under the leadership of First Lady Emine Erdoğan and under the auspices of the Presidency, in cooperation with the Türkiye Tourism Promotion and Development Agency (TGA) with the support of the Ministry of Culture and Tourism, Aimed at promoting the richness of Turkish cuisine to a global audience and featuring contributions from prominent chefs, academics and experts, Turkish Cuisine With Timeless Recipes draws attention to the famous Turkish cuisine and its waste-free, ecological and sustainable characteristics.
In addition to discussing the healthy storage and cooking techniques used in Turkish gastronomy, the book is intended to record centuries-old traditional recipes in their original form, and make them accessible to future generations.
Published in Turkish and English, the book presents two hundred and eighteen recipes for healthy and alternative diets, including recipes for waste-free, fermented, regional, local and gluten-free dishes.
The book was a source of inspiration for the Turkish Cuisine Week.