Your On-The-Go Travel Beauty Essentials From TishTash!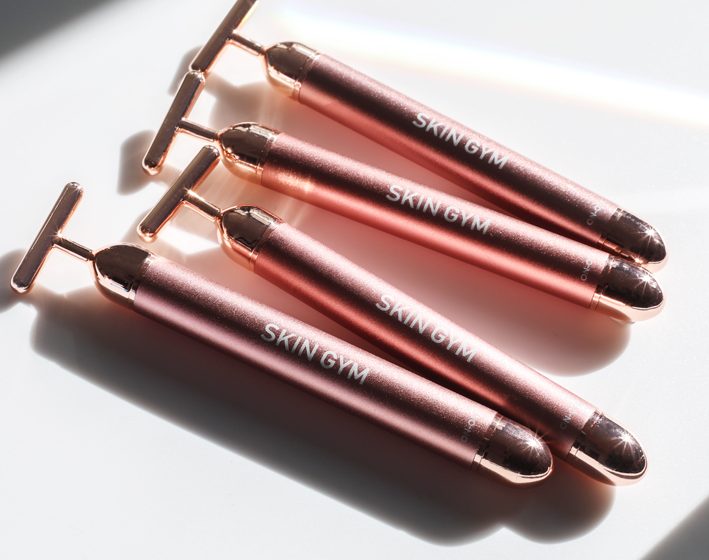 Well, it is that time of the year again where everyone is gearing up for adventures in different parts of the world. While travelling looks good on Instagram it does not necessarily resonate the same in real life. Packing your whole house in a bag is not an ideal situation and we are here to slightly lighten the load with this curated travel beauty guide that will help you withyour skin and hair needs, and guide you on the beautiful journey. Featuring brands that fit every budget and essentials to keep your beauty game on, read along to find what items deserve a place in your suitcase this summer!
Skin Gym – Vibrating Beauty Lifter T-Bar (AED 139)
Designed with sonic vibrational technology for good vibrations and glowing skin, Skin Gym's Vibrating Beauty Lifter T-Bar mimics the effects of a professional massage to treat these pesky under-eye bags or toning your jawline to help you look and feel relaxed on your vacation. Available in Sephora Middle East stores and online at www.Sephora.ae
Hydropeptide Clean Getaway Anti-Wrinkle + Detox Travel Set (AED 130)
This travel-ready set from our Detox collection is designed to keep your skin flawlessly hydrated and protected whether you're on the road or in the sky. Available exclusively on https://www.enerbeauty.com/
Rossano Ferretti Dolce Satin Glow Booster (AED 205)
This bio-certified Vegan ingredient Leave-in Spray helps hydrate & reduce moisture loss, whilst improving softness & strength on even the driest hair. Boost your styling results by detangling, reducing breakage, and reducing colour loss,
whilst adding a velvet-like sheen. Available at https://www.enerbeauty.com/
 The Body Shop Edelweiss Bouncy Juicy Mist (AED 99)
An on-the-go face mist enriched with edelweiss extract, buddleia extract, and CFT moringa seed oil. This light mist protects from indoor and outdoor pollution as well as the effects of blue light. It also provides 24 hours of hydration. Available at the Body Shop stores across UAE.
Superdrug Face cleansing wipes (AED15)
If you are travelling, there is one thing that you cannot miss out on- the wipes. Superdrug Cleansing Travel Face Wipes are infused with Micellar technology that gently removes waterproof mascara. It is suitable for sensitive skin. Available at  https://www.watsons.ae/
Naturals by Watsons Prestige Rose Hand Cream (AED 15)
Natural by Watsons range from Watsons is a natural and toxin-free beauty brand. This prestige rose hand cream is for softening and moisturising the skin. Organic Rose Water is rich in tannins to nourish, smooth and moisturise the skin. Natural Rose Oil has an aromatherapy scent to calm and relax the mind and body. Available at https://www.watsons.ae/
Filorga UV Defence Sun Care (AED 252)
Protect your skin from the sun with this powerful anti-ageing sun cream from the fabulous French skincare brand, Filorga. Power-packed with skin-tasty ingredients like Vitamin E, hyaluronic acid, antioxidants and anti-dark spot action, this will be any traveller's best friend!
Available for purchase at leading pharmacies including Bin Sina Pharmacies, Boots Pharmacies and online at http://www.basharacare.com/
WetnWild Bare Focused Tinted Hydrator Skin Veil (AED47)
Warmer temperatures offer the perfect opportunities to ditch heavy foundations for more lightweight and breathable coverage. Look no further than this amazing, tinted hydrator which is your one-way ticket to flawless and radiant skin. Containing hyaluronic acid and vegan squalene, it is buildable depending on the coverage you are looking to achieve with a semi-matte finish that you'll fall in love with. Choose your shade and embrace the heat with confidence. Available to shop at Glam Beauté stores in the UAE and online at www.glambeaute.com
Milani Fruit Fetish Lip Oil (AED 61.95)
Hint – it's all about the tint. A must-have for the upcoming summer months, these lip oils deliver instant hydration and glossy shine in an easy to apply formula while adding a subtle tint of colour. These custom oil blends combine fruit extracts and Vitamin E to nourish and hydrate your lips. Meet your new handbag essential! Available to shop at Glam Beauté stores in the UAE and online at www.glambeaute.com
Flormar Hero Mascara (AED 55)
If your eye makeup is on point, then you automatically feel like you can take on the world! Make the Hero Volume & Curl Mascara by Flormar your trusty travel companion. It adds volume by grasping your lashes from root to tip, with a formula that does not create a feeling of heaviness. Flutter those super voluminous eyelashes all day long! Available at Flormar stores in the UAE and online at Instashop.