Cold Brew Recipe to Try at Home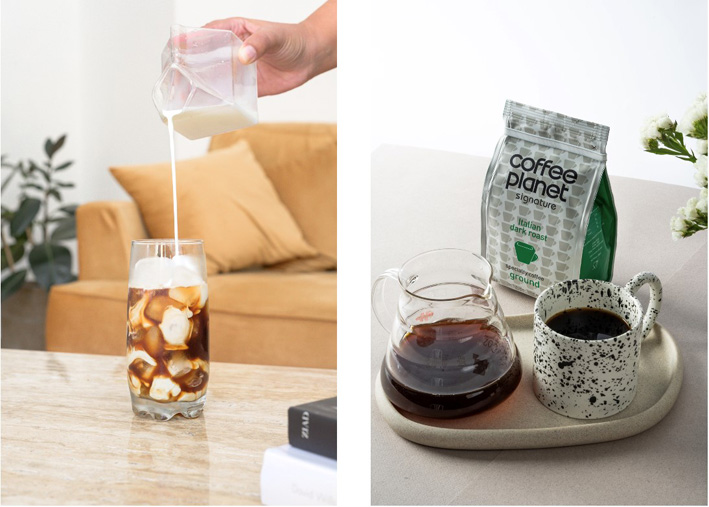 Coffee Planet shares how to make delicious Cold Brew Coffee at-home, perfect for the summer
A morning ritual to wake up, brew that first cup and smell the fresh coffee aromas to prepare you for the day ahead. As the temperatures rise it's time for cold brew, with its complex tastes, delivering a great caffeine boost.
Start your day full of beans with this step by step guide.
Use fresh ground coffee beans. For the best results Coffee Planet recommends medium to dark roast beans such as the Desert Rise Medium or Italian Dark.
2. Fill your preferred vessel with 4 cups of water and add your freshly ground coffee. You'll need 6-7 tablespoons of ground coffee to 4 cups of water. Make sure the vessel is large enough to hold both ground and water, it can be anything from a large bowl, glass bottle or a French Press, so when it comes time to strain you simply press down.
3. Ensure the ground coffee is thoroughly wet through. Cover and let it steep for 12 to 14 hours refrigerated.
4. Once brewed it's time to strain with a coffee strainer or sieve and cloth and you're done!
Finish off your long-awaited cold brew by adding ice for a refreshing summer drink or turn your new brew into coffee ice cubes to avoid watering down. You can make it ahead of time and you'll be set for the week so you can savour every sip!
To purchase all products, visit the Coffee Planet website
What is needed to make the perfect cold brew
– French Press, glass bottle or bowl
– Measuring tool or cup
– 6 – 7 tablespoons of freshly ground coffee (medium to coarse grind)
– 4 cups of water (room temperature)
For the ultimate experience use whole coffee beans and grind them at home
Get your hands on fresh locally roasted packed whole beans and bring out the barista within. Treat yourself with a Timemore hand grinder! Visit the Coffee Planet website
You can't get fresher than that!