HONOR Teases the Launch of HONOR X8 5G in the UAE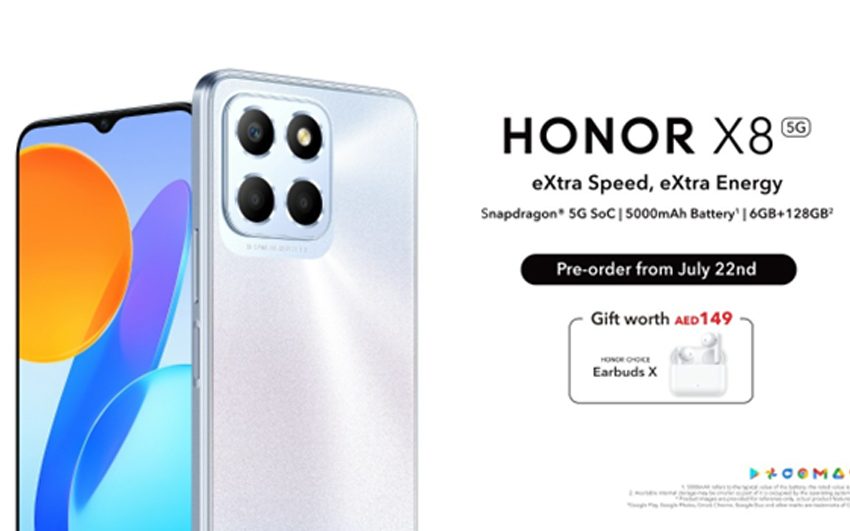 With 5G Dual SIM, Long-lasting Battery & large 6GB+128GB storage, the HONOR X8 5G is a Powerhouse for Everyone
Dubai, UAE July 18 – Global technology brand HONOR, confirmed the launch of the upcoming HONOR X8 5G in the UAE. With an ethos to create top-tier performance, perfect for gaming, working and entertainment, HONOR's X8 5G is the ideal affordable 5G smartphone, packing a range of exciting features and functionality to help users stay entertained throughout the day.
The HONOR X8 5G is equipped with Snapdragon 5G chipset which is packed full of features to help users stay accommodated, all at a reasonable price tag. The Qualcomm Snapdragon chip offers excellent 5G communication experience and great power efficiency, in which games and apps run smoothly for a smart user experience.
Fast Charge your device within 10 minutes
Packing a whopping 5000mAh battery, the HONOR X8 5G remains powered throughout the day and handles consumers' needs on a single charge. When it needs a power boost, the 22.5W HONOR SuperCharge ensures quality battery charging in no time. By charging the device for just 10 minutes, users can enjoy watching online videos for 3 hours.
Open multiple apps and switch between them smoothly within an instant
HONOR X8 5G comes with 6GB + 2GB HONOR RAM Turbo technology for a smooth 8 GB experience from 6 GB of RAM, offering greater capabilities on the fly and allowing users to simultaneously open more applications without compromising on efficiency.
Store all your memories on your HONOR X8 5G device
Download content without disappointment with the HONOR X8 5G, which ensures consumers can enjoy and connect with their loved ones with maximum storage capacity. Investing in external memory can help as a temporary solution but investing in a phone with enhanced storage capabilities can leads to better mobile experiences. With more memory on the go, the HONOR X8 5G includes 128GB of storage right out of the box, with support of up to 1 TB microSD card expansion. This allows users to store up to 10,600 songs, and 26,500 photos.
Sleek Design and striking colors
When it comes to design, the HONOR X8 5G comes in exquisitely slim and stylish design and three striking colors – Midnight Black, Ocean Blue and Titanium Silver, designed for a style-conscious audience. The HONOR X8 5G is slated to be introduced to UAE customers on July 22nd, 2022.