Introducing Traybae: Dubai's Start-Up Dessert Brand Whipping Up British Favorites; Traybakes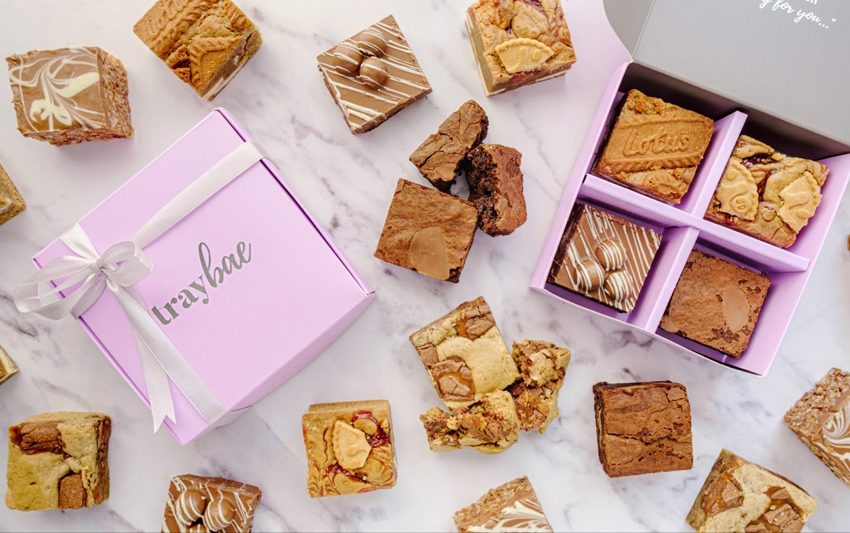 July 2021, Dubai, United Arab Emirates – Dubai has a new and first-of-its-kind dessert concept in town! Introducing Traybae, a homegrown baked-goods start-up serving up a trending UK dessert concept; traybakes – perfect for gifting and at-home sweet-tooth cravings.
Known for its "moreish" and indulgent flavors, Traybae provides Dubai residents with delectable palate pleasers in different, delicious forms. Founded by a young and visionary British expat entrepreneur and food enthusiast, Emily Roberts developed the Traybae concept as a passion project in her kitchen in 2020. After demand from family and friends, the concept blossomed into a well-known and rising local dessert brand serving decadent and flavor-explosive goodies with much-loved occasional and seasonal combinations.
The tray-like goodness was inspired by the popular British baking method, traybakes, where cakes and confectionery are baked in a square or rectangular container and then cut into individual pieces of the same size for serving. The brand not only pays homage to the traditional baking method, but it offers its customers a sentimental nostalgia and sense of home with its childhood-favorite recipes.
More than just cake or confectionary, Traybae is an experience designed for those that share an appreciation for fine quality. The brand is currently home to six different traybake products, and six stacking options, including:
The Jammin Blondie: Irresistible indulgent jam swirls and white chocolate chunks, topped with Jammy biscuits.
The Lotulicious Blondie: Perfect for dipping in your afternoon tea, this popular blondie is filled with soft white chocolate and generous chunks of the famous Lotus biscuits.
The OG Brownie: Also known as their signature brownie, the OG is described as fudgy, chocolatey, and heavenly while oozing with Belgian milk chocolate.
The Cookie Bar: Featuring Belgian chocolate chips bursting with Mars Bar chunks, it's a dreamy chocolate heaven!
The Caramel Crispy: A delightful twist on the popular Rice Krispies bars; Rice Krispies squares laced with the secret Traybae caramel mix topped with the most decadent Belgian and white chocolate swirls
The Malteser Slice: Another all-time favorite flavor, the Malteser Slice incorporates a crunchy base bursting with Maltesers topped with creamy Belgian milk chocolate and the perfect amount of drizzled white chocolate.
Whether it's for a birthday, anniversary, or a "get well soon", the Traybae stacks are perfect for the occasional surprise. Adding to the fun and customer experience, Traybae offers each stack order the option to add a personalised topper, customized by message, color, and font. The stacks are available with either the popular Blondie or Brownie as the base and the option of having the OG Brownie, The Lotulicious or The Jammin as the filling.
When ordering from the brand's website or Deliveroo, customers can expect a decadent and freshly baked tray to arrive perfectly nestled in a vibrant, lavender-colored box. Not only is the packaging perfect for gifting, but it was also created for the individual who appreciates a little extravagance for their "me-time".
"I started Traybae to pursue my passion for baking, and the opportunity to be part of the vibrant culinary sector in Dubai. The boom in the gifting and delivery landscape was an additional business bonus. In our pursuit to innovate new flavors, we are currently preparing limited-edition seasonal variations and a new line of nostalgic "must-tries" which will soon be revealed to indulge, experience and share".
For instant delivery, Traybae delights can be ordered via Deliveroo, or directly via the Traybae website.