Less is More: LUSH Unveils Trendy and Reusable Shopping Solutions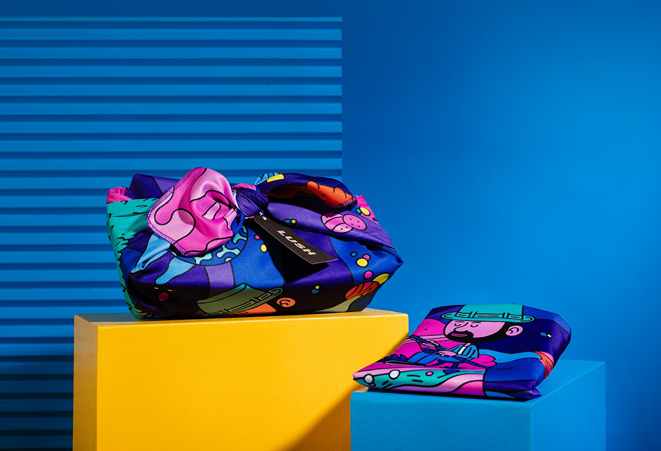 LUSH supports Dubai and Abu Dhabi's new policy to reduce single-use plastic bags by unveiling their own eco-friendly bags
Dubai, United Arab Emirates, July 2022: Since its inception,LUSH Fresh Handmade Cosmetics has always championed eco-friendly and sustainable initiatives. In line with Dubai and Abu Dhabi's new policy, whereby all single-use plastics in retail stores are now chargeable at 25 Fils per bag, LUSH is thrilled to offer shoppers the brand's own carrier bags that are 100% made from recycled paper.
Each carrier bag is available at 25 Fils across UAE and provides shoppers the chance to take an even more sustainable route when purchasing LUSH products. The brand prides itself in encouraging shoppers and followers to consume consciously, and with the cities' new initiatives, LUSH looks forward to putting the spotlight on more environmentally-friendly ways to shop.
Anita Baker, LUSH's Managing Director comments, "All of the recycled paper we use in our carrier bags and ballistics bags is the same as avoiding six minutes of deforestation. Reducing waste and reusing items is even better than recycling, and at LUSH we encourage our customers to consume packaging consciously and support a reduce and reuse lifestyle with our statement tote bags and colorful knot wraps. Minimizing packaging and going zero-waste remains at the core of LUSH philosophy."
Over the years, LUSH has created, expanded and innovated package-free products and continuous to lead in materials' recovery, recycled and recyclable packaged. Those looking for an environmentally-friendly shopping bag can say goodbye to single-use shoppers and hello to these trendy options:
Fighting Animal Testing Tote Bag, AED 75
Knot Wraps, starts at AED 35
The LUSH tote bag and knot wraps are available across all LUSH Stores and online on mena.lush.com.