LOOTAH Perfumes Launches Barjeel Collection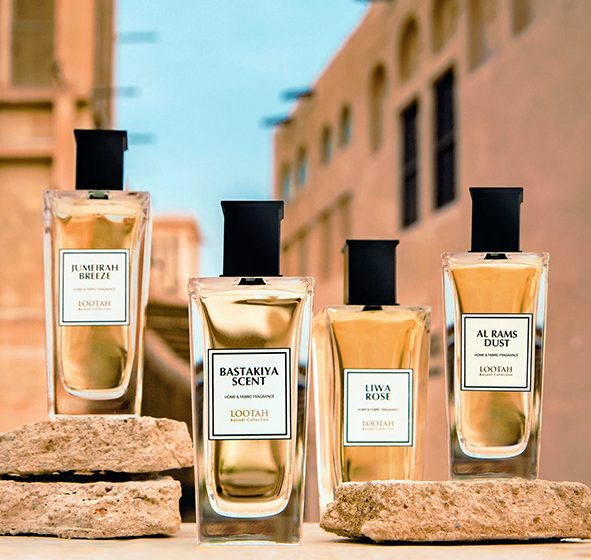 Bringing the scents of the Emirates through unique home fragrance blends.
Inspired by the distinct aromas of age-old streets, dunes, flora and sea, UAE heritage fragrance label, LOOTAH Perfumes, announces the launch of their latest line of home fragrances – Barjeel.
With four fragrant masterpieces for the home and soft furnishings, the Barjeel inspirations include nostalgic scents that bring back memories of crowded spice souqs, fresh shorelines, floral aromas of Emirati gardens and earthy sands.
From floral and woody to fresh and spicy, Barjeel features a blend of fragrant notes from around the world creating a beautiful expression of East-meets-West.
Introducing Al Rams Dust, Jumeirah Breeze, Liwa Rose and Bastakiya Scent…
Liwa Rose
Featuring notes of Bergamot, Ylang Ylang and Vanilla, evoking the glorious dunes and the spicy aromas of the Emirati culture.
Al Rams Dust
Thisblend of Bergamot, Saffron and Patchouli is an alluring mix that takes you on a special journey through the sands of Dubai providing a unique and spicy sensory experience
Jumeirah Breeze
Bask in the relaxing scent of a balmy summer breeze on the shores of Jumeirah with this luxurious and refreshing blend of lemon, ginger and mint to awaken your senses.
Bastakiya Scent
Allow the mind to wander to another time and space, to the glistening creeks of Dubai and the sandy daze with this peppery blend.
Lootah Perfumes, inspired by a family's passion and deep-rooted knowledge and expertise in perfumery since the 1950's, offer an extensive range of fine fragrances with a scent for every moment. With its exquisite collection of concentrated oils, fusion fragrances and scented incense and oud, Lootah has preserved the Arabian philosophies of hospitality, prosperity and harmony over the years.
To discover more, visit one of Lootah's stores across the UAE and online on www.lootahperfumes.com.
Keep up with the latest news on Instagram and Facebook @LootahPerfumes