THE ULTIMATE F/W '22 TREND EDIT FROM HARVEY NICHOLS – DUBAI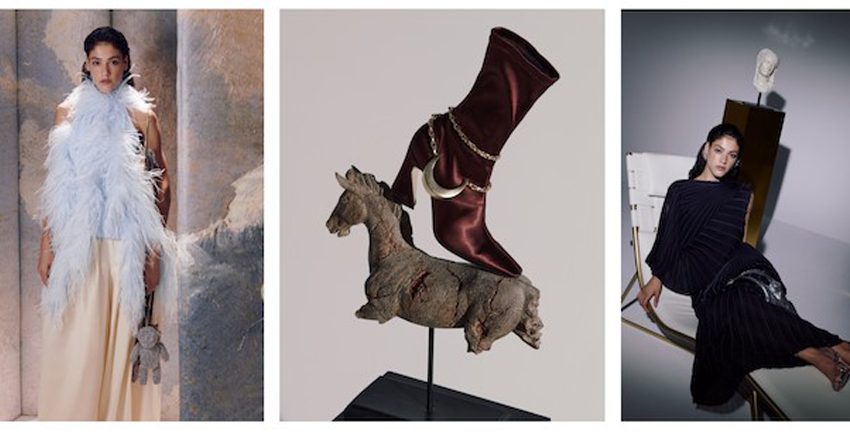 For Fall/Winter 2022 Harvey Nichols – Dubai focuses on the unique, rare, and exquisite pieces that allow for self-expression. The curated selection of looks available in-store this season are statement-making for the fashion-forward consumer. Feel inspired by the artistic shapes and silhouettes and make fashion a statement embodying the Museum of Harvey, with these trends available at Harvey Nichols – Dubai, in Mall of The Emirates. Harvey Nichols – Dubai identifies the key trends to look out for this season, to ensure the most fashion-forward wardrobe with pieces from the best of luxury brands.
The key womenswear trends to look out for this season include:
The Bohemian Era
An ode to the flamboyant 70's, one for the flower child and disco dancers alike. Combine the wrap top and flared pants from Acne Studios for a boho style in muted colours. Stand out at the disco with the retro patterned Paco Rabanne pants and let the flamboyant side appear with the feathered top from La DoubleJ. Free-flowing pieces for the free-spirited, embrace the eclectic with an emphasis on instinctive dressing.
Pastel Palette
A landscape of pale, muted purple and blush tones imitates cotton candy skies moments after sunset. Just like the lavender skies in the Museum of Harvey Nichols Fall Winter campaign, these pieces reference the great artistry and sensibility of paintings on canvas. The light blue, feathered top from Attico embodies the airiness of clouds translated into fashion, while the bedazzled teddy bear handbag from Alexander Wang transports us to a dreamlike state where reality is sprinkled with glitter. Be it one's party wear or a casual outfit, this palette speaks of carefree confidence.
High Pigment
This season, Harvey Nichols – Dubai inspires to express oneself through a bright and expressive palette. The colourful set from Siedres is a statement-making look that demands attention. Break the rules with the red and pink coat from Staud, or brighten up any outfit with the bold block colour shoes from JW Anderson. One for the eclectic dresser, those impartial to mixing and matching colours to create pairings that defy all expectations.
Avant-Garde Glamour
This is the trailblazer who welcomes a new wave of glamour, all about unconventional palettes and playing with texture, making elegance look effortless. The deep emerald green sequin skirt from Vince is glamorous yet subtle, suitable to dress up or dress down. JW Anderson's blazer with unique detailing comes in a mesmerizing blue and can be worn to the office as well as out for a dinner. Add some glitter and glamour with the Mach & Mach pink handbag with sparkling details.