Samsung launches 'Let's Bring It All Home' Campaign, Celebrates Football Enthusiasts with SmartThings
user
November 2, 2022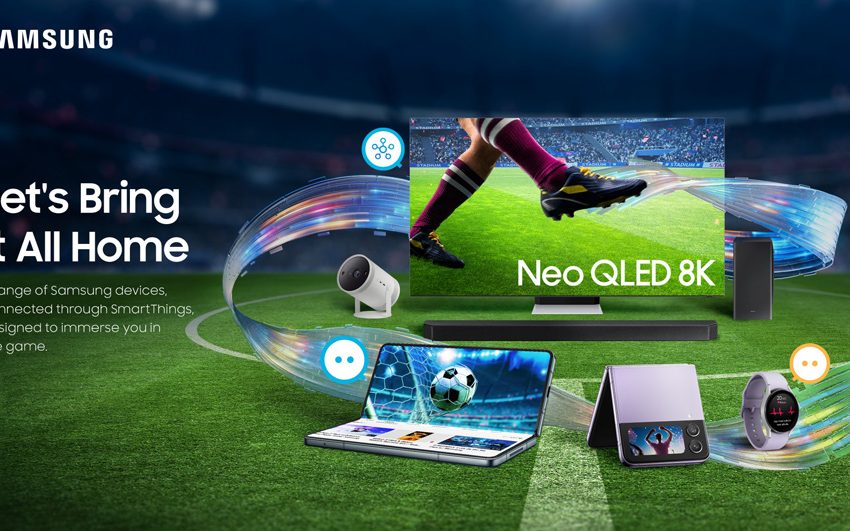 Dubai, UAE, 2nd November 2022: To celebrate the most awaited football season and provide an unmatched viewing experience for sports enthusiasts, Samsung Electronics launched the 'Let's Bring It All Home' campaign featuring SmartThings, which enables consumers to establish an integrated Smart Home via its products and associated distinctive features, powered by the Internet of Things (IoT) and artificial intelligence (AI).
The campaign will highlight a diverse range of products, including the latest Neo QLED 8K TV, the Galaxy Z Fold4, Galaxy Z Flip4 smartphones, the Galaxy Watch5, the Galaxy Buds2 Pro and the Freestyle projector. Football fans have a chance to bring home this great line-up of Samsung devices and enjoy the matches at any time and from anywhere in a connected space created through the SmartThings app.
Mohammed Al Azzawe, Head of Brand Marketing and Digital – MENA Regional HQ at Samsung Electronics, said: "Samsung Electronics, throughout the years, has introduced innovations that not only help people overcome obstacles but create new experiences to improve their lives. Samsung focuses on customization underpinned by its people-first philosophy, which emphasizes the empowerment of individuals with premier technologies. This campaign is a pronounced testament to our customer-centric approach and a gesture of appreciation for football aficionados who will avail of a wide range of options to watch the matches on our ecosystem of connected devices to empower their experience, including digital video on Galaxy Z Fold4 and Z Flip4 smartphones, an immersive experience on Neo QLED 8K TVs, and match updates on the Galaxy Watch5."
With SmartThings, Samsung's range of products transforms homes into operationally connected ecosystems, redefining the true meaning of home connectivity. Additionally, via the SmartThings app, consumers can set up watching routines to sync all their Samsung devices for upcoming football games and enjoy game nights with friends and family in an ideal setting.
Every football fan has their own match-viewing routine, whether it is going into football mode from their living room, accentuated by the 8K TV's riveting display, or setting up an outdoor theatre to project football matches using The Freestyle projector — Samsung's ecosystem of devices is always connected, enabling a multi-viewing experience for fans.
The 8K technology of the Neo QLED supported by the AI upscaling feature offers the most enhanced picture quality ever seen before, all while boasting a sleek and refined design devoid of strings and cables that distract the eye from this year's football and sporting events. Additionally, Samsung's 2022 Neo QLED features EyeComfort mode, which automatically adjusts the screen's brightness and tone based on a built-in light sensor, bringing broadcasts to life those for evenings in with your buddies.
Samsung's foldable Galaxy smartphones are also a core part of the line-up. The Galaxy Z Fold4, with a multitasking Taskbar and immersive display, stands side-by-side with the Galaxy Z Flip4, which ushers new ways to express yourself with FlexCam and its stylish compact design.
This year, The Freestyle is going to be the most-loved Samsung device for sports fans, especially for outdoor gatherings. The projector displays a crystal-clear image on any surface, at any angle, up to 100 inches in size, putting a whole new spin on those game nights.
In celebration of the football season, Samsung will be releasing offers on several products including the Galaxy Z Fold4 and Galaxy Z Flip4, Neo QLED, The Freestyle and more.
These limited-time offers and exclusive bundle discounts will be available via retailers across Samsung's eStores.