DAMAS JEWELLERY CELEBRATES ARAB ELEGANCE WITH THE NEW LACE PRECIOUS LINKS COLLECTION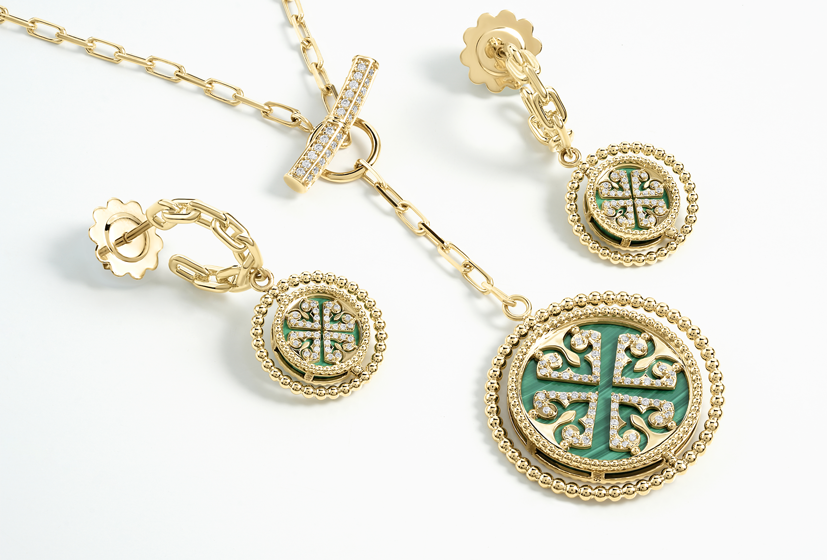 Damas Jewellery, the Middle East's house of jewellery design, has elevated the art and craftsmanship of culturally inspired jewellery making with the extension of its mesmerising Lace collection. A stunning update of the original range, Lace Precious Links is an inventive work of artisanship — its masterfully designed selection of cable chains and medallion charms ornamented with elegant lace-like patterns.
Unveiled in 2021, the original Lace collection was inspired by Arabic architecture: its intricately crafted pieces — shaped like medallions — bearing distinctive markings that bring the geometric motifs and arabesque patterns of regional tilework and architecture to mind. Adorned with brilliant gemstones, including turquoise, malachite and mother of pearl, each Lace piece stands apart as a statement of grace and elegance.
The latest addition Lace Precious Links uses cable chains that hold singular or multiple Lace medallion charms while various textures of gold beads and hammered gold illustrate beautiful grooves and patterns, offering subtle yet unmissable sophistication.
Every Lace Precious Links creation has been designed to catch the eye. The new range's chunky cable chains and stylish charms are beautifully embellished, the latter being made all the more alluring by captivating patterns layered over coins of vibrantly coloured gemstones and rough diamond touches that add shine and sparkle.
A tribute to the sophistication of Arab women, Lace Precious Links has been lovingly curated to inspire and empower, imbuing wearers with the confidence and sophistication synonymous with Damas.
Now available at Damas Jewellery stores across the GCC and online.
To view the full collection, please visit
www.damasjewellery.com
Follow @Damasjewellery on Instagram to discover the collection