NAIL THAT FESTIVE LOOK WITH A VISIT TO NAIL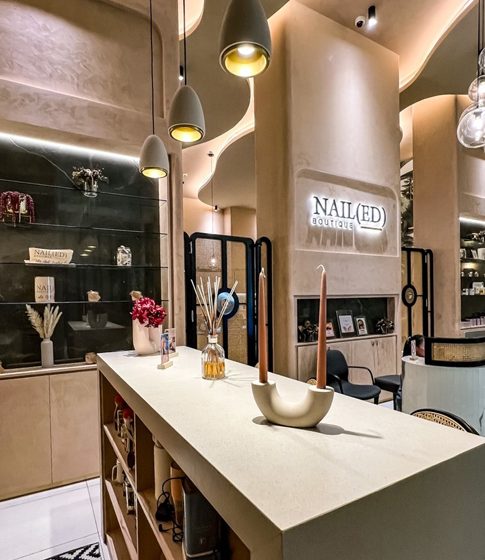 ** These offers are all you need to pamper yourself and your loved ones**
The festive season is upon us and we're in all in for some glam time. We've got the outfit, our glimmering jewellery, the makeup looks for our parties and gatherings, but do we have the nails to match? There's no better place for the perfect nails than Nail(ed). This chic and elegant salon at the Dubai Hills Mall is the perfect place to express festive beauty needs. From enriching quick mani-pedi sessions to relaxing hand and foot massages, you can simply relax and enjoy a rejuvenating session at this latest beauty haven in Dubai Hills Mall.
The salon space is divided into the nail lounge with comfortable mani-pedi stations and dedicated hair and facial service stations with comfortable recliner seats. The salon uses toxin-free products, which advocates the brand's natural approach.
Some of the offers and gift vouchers you can avail at Nail(ed):
Give The Gift of Freshly Manicured Nails!
It is the festive season and Christmas is right around the corner, what better to gift your friends and family then a wonderful gift voucher to pamper them.
We Nail(ed) Wednesday Offer
To pamper yourself without splurging, get the Nail(ed) classic Combo at AED 150 instead of AED 180, and the Nail (ed) gel combo at AED 235 instead of AED 295
Eyelash extensions
Get those eyelash extensions that you have been longing for at the Nail(ed) salon for just AED 280
Let Nail(ed) become your new go-to for the best and most ethical beauty treatments available in the city. Nail(ed) are here to shake things up and help you become the best version of yourself in an industry that relies on classic beauty trends. Championing equality, Nail(ed) is home to women and girls of all age groups, and their purpose goes much deeper than great hair and nails and everything else that is skin deep.
Nail(ed) Boutique is in Dubai Hills Mall, Ground Floor, G-12.
Get Manicur(ed), Thread(ed), Wax(ed), Gel(ed) with Nail(ed)!
For more information, please check: https://www.instagram.com/nailed_ae/?hl=en
@nailed_ae | #NailedBoutique