ETISALAT MOTB 2023: A PLATFORM FOR EMERGING TALENT TO SHOWCASE AND DEVELOP THEIR BRANDS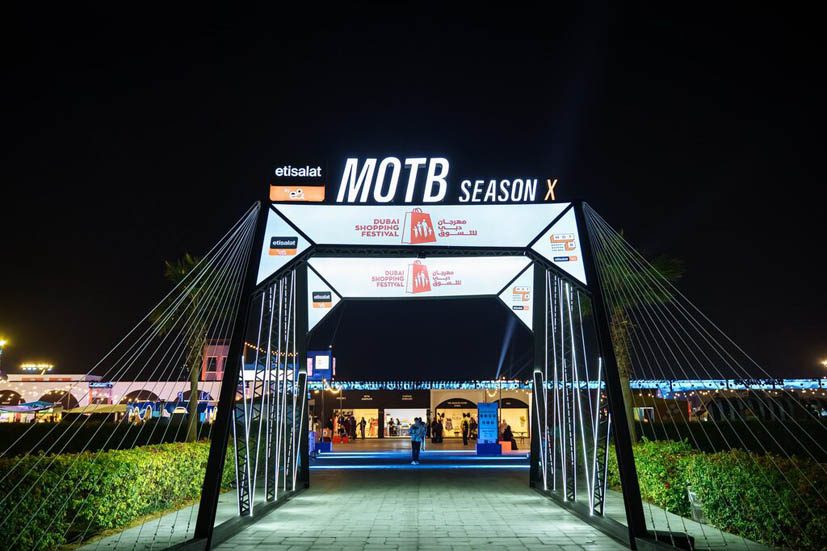 Dubai, United Arab Emirates, 28 January 2023: From streetwear start-ups, emerging fashion designers and developing beauty brands, Dubai Shopping Festival's Etisalat MOTB has provided a platform for hundreds of up-and-coming new businesses to gain valuable exposure to both customers and industry peers throughout each of its 10 editions.
Taking centre stage once again until 29 January at Dubai Design District (d3) – the region's first and largest design district – Etisalat MOTB is hosting some of the biggest global, regional and local brands within the fashion, beauty and design industries, with dozens of new vendors getting their chance in the limelight at this year's event.
Ahmed Al Khaja, Chief Executive Officer at Dubai Festivals and Retail Establishment (DFRE), which organises the Dubai Shopping Festival, said: "Since its inception, Etisalat MOTB has provided a unique and valuable opportunity for up-and-coming new businesses to gain exposure, showcase their brands and expand their customer base. With this year being the 10th anniversary, we have brought together a variety of 60 vendors who will be selling everything from clothing and accessories to handmade crafts and unique décor. This offers visitors a unique opportunity to discover new brands and purchase one-of-a-kind items that are not available in traditional retail stores. We encourage everyone to come and check it out for themselves."
This year's Etisalat MOTB is seeing a huge variety of new businesses hoping to further establish themselves in the retail industry. These include Pointless Acts, a brand of socks created by streetwear enthusiasts; Flick, a company that creates keepsakes inspired by photography from cherished memories; Gigi, a concept store that combines fashion, décor, art and lifestyle from various regions; BEX Beauty, a makeup brand established by Emirati singer and performer Balqees Fathi; and many more.
One vendor at this year's event is Shoevenir; a sneaker brand from Portugal that creates animal-free sneakers inspired by places and the memories behind them. The company collaborates with artists to create postcards in their style which become the insoles for its sneakers, and the business recently launched its Dubai-inspired sneaker, Shoevenir Dubai, in collaboration with local street artist, Tarsila Schubert.
Pranay Jethwani, Managing Partner at Shoevenir Dubai, said: "Shoevenir is proud to be a part of the 10th edition of Etisalat MOTB this year. Having recently launched our vegan sneaker brand in Dubai, we are excited to show everyone what we are all about. As a brand, Shoevenir celebrates art and sustainability. We collaborate with local artists to develop sneakers inspired by cities, and we also try to promote Dubai's art community through live sneaker painting. At Etisalat MOTB, we have a couple of very exciting Dubai-based artists who will be showcasing their unique styles through sneaker customizations at our booth."
"Our sneakers are ethically made in Portugal using only vegan materials, and for every pair sold, a tree is planted in line with our mission to support a more sustainable future," Jethwani added.

Another designer who was thrilled to be chosen as part of the Etisalat MOTB line-up this year was Salma Salaheldin, Managing Partner of Setta Jumpsuits, an Emirati-Egyptian womenswear brand that focuses on the most functional wardrobe piece: jumpsuits.
"Setta means number six in Arabic and silk in Italian. It is also the number of fortune and spirituality in different cultures. At Setta, we believe that everyone deserves to stand out in life! We believe that every woman should have a jumpsuit that highlights her unique qualities and brings out her inner hero. We are excited to showcase our brand at Etisalat MOTB, where we can connect with fashion enthusiasts and women who want to join our jumpsuit revolution. Our goal is to change the perception of jumpsuits being worn by a specific group of people and to demonstrate how jumpsuits can solve many wardrobe problems."
Setta has recently partnered with Al Jalila Foundation to dedicate 5 per cent of each sale to the humanitarian organisation. "We are dedicated to being socially responsible and to support organisations that empower communities," Salaheldin explained.
Another company is Fashion Rerun, which paved the way for vintage clothing in the UAE, and is one of the few companies chosen as a return vendor. Founder Mej Virji expressed her joy of being part of the event again, stating that last year's event provided a valuable experience for her growing business.
"Last year we decided to take a risk by trying a new event and Etisalat MOTB was our choice. We can now safely say as we return for a second year in a row that the event was a huge success. We are taking a fresh approach to the vintage scene by introducing new vintage items and also showcasing our exclusive reworked pieces at Etisalat MOTB."
Pop-up stores and markets have grown to become an exciting option to entice start-ups into competitive new markets, and the temporary spaces provide an opportunity to test out new lines and goods for sale.
DFRE also provides support with a major push for Etisalat MOTB through its own marketing channels – from social media platforms with hundreds of thousands of followers, to websites, outdoor advertising, influencer partnerships, and more.
"There are countless examples of small-time businesses who have used Etisalat MOTB as a launchpad over the past 10 editions," said Al Khaja. "We look forward to seeing the future successes of the vendors at this year's edition."
The eclectic outdoor DSF pop-up Etisalat MOTB runs until 29 January at Dubai Design District (D3). This year, the edgy New York themed marketplace boasts DJs, huge designer and small homegrown brands, fashion, food and live shows as it marks its 10th edition. The market is open from 12 PM to 12 AM this weekend.
For more details, visit www.mydsf.ae and @CelebrateDubai and @StyledbyDubai on social media channels.