FIRST OF ITS KIND SAUDI STOPOVER VISA AVAILABLE FOR THE WORLD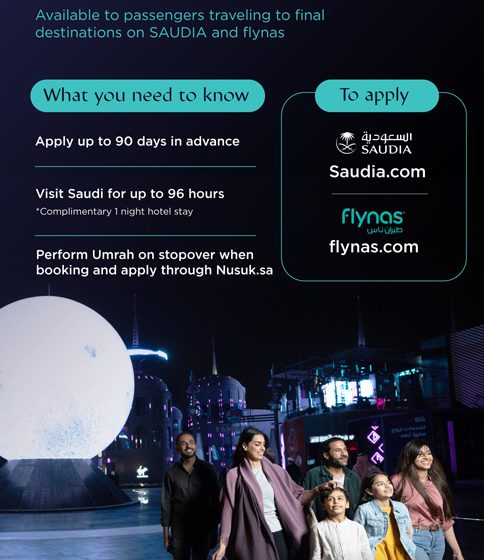 The Stopover Visa is offered to passengers traveling to their final destination on national air carriers, SAUDIA and flynas
Stopover Visa is open to all leisure, business and religious travelers and welcomes visitors to stopover for up to 96 hours and includes one complimentary night hotel stay
First Stopover visa to be digitally integrated with an airline booking engine and can be obtained in three minutes
Riyadh – Ministry of Foreign Affairs (MOFA), in collaboration with the Ministry of Tourism (MT), Ministry of Interior (MOI), the Ministry of Hajj and Umrah (MOHU), Saudi Tourism Authority (STA), SAUDIA and flynas, has announced the launch of a new Stopover Visa.
The free-of-charge Stopover Visa is open to a wider number of countries than the historic tourism eVisa and is Saudi's latest move to make the destination more accessible. In Q1 this year airline capacity into Saudi Arabia is expected to grow by over 65% compared to the same period in 2022 when four of the Top Ten busiest international routes were to or from Saudi.
The Stopover Visa will allow passengers to stay in the country for up to 96 hours, enabling more visitors than ever to explore Saudi's incomparable historical, cultural, and spiritual sites.
Travelers will also be able to use the Stopover Visa to perform the spiritual Umrah ritual. Spiritual travelers can book flights through SAUDIA and flynas, but must also register for Umrah through the Nusuk platform.
Even more exciting for visitors, Stopover Visa holders will be eligible for a complimentary one-night hotel stay during the stopover when booking through SAUDIA.
To help visitors make the most of their stopover, custom 24, 48, 72 and 96-hour itineraries have been developed to inspire visitors to stroll through Jeddah's Al-Balad, or visit the Al-Turaif district in Diriyah, one of Saudi's six UNESCO World Heritage Sites.
Visitors can also use the Stopover Visa to break up long-haul flights or book a bonus trip to experience Saudi's burgeoning entertainment and seasonal events calendar or even extend a business trip on the way to their final destination.
The Stopover Visa application will be automatically available through the airline booking platforms for all passengers traveling to their final destination on SAUDIA or flynas airlines. A stopover can be made through any airport in Saudi. For many, the application process can be completed in under three minutes and can be applied for up to 90 days before travel.
The Stopover Visa provides yet another flexible option for visitors to experience the authentic home of Arabia and will contribute to Saudi's vision of reaching 100 million visits annually by 2030.
His Excellency Ahmed Al Khateeb, Minister of Tourism of Saudi Arabia, and Chairman of the Board of Saudi Tourism Authority, said:
"The new Stopover Visa is yet another proof point in Saudi's commitment to developing and encouraging growth in the tourism sector. It is open for travelers passing through Saudi on our national carriers whether for leisure, business or Umrah. We will continue to work together across government and the tourism ecosystem as Saudi transforms into a leading global tourism destination."
Fahd Hamidaddin, CEO and Member of the Board at Saudi Tourism Authority, said:
"Today's announcement of Saudi's inaugural Stopover Visa is a landmark example of integrated public and private sector cooperation. Four of the Top Ten global routes were in or out of Saudi airports in 2022, a testament to the appeal of destination Saudi.
Saudi is committed to a seamless visitor experience. In partnership with our national air carriers, SAUDIA and Flynas, we are using digital platforms to provide an instant Stopover Visa, which only enhances Saudi's accessibility and our world-class destination offering."
‏Captain Ibrahim Koshy, CEO of SAUDIA, said:
"The launch of this innovative and seamless Stopover Visa is the first of its kind in the aviation industry and a significant milestone in our digital transformation program. It is a testament to SAUDIA's commitment to support the Kingdom's strategic goal of reaching 100 million visits by 2030 and we are confident it will positively impact the growing number of transit passengers while enhancing our position as a hub that connects East and West. The new service will also encourage passengers to perform Umrah, visit key destinations and attend events and Saudi seasons."
Bandar Almohanna, CEO and Managing Director of flynas, said:
"Saudi Vision 2030 has laid solid foundations for cooperation between the regulatory and executive sectors on the one hand, and the private sector on the other, with the ambition to support the Kingdom's goals across all sectors. Today, flynas is proud to be a part of this ecosystem that has enabled Saudi's national carriers to facilitate the issuance of the new Stopover Visa. This is a welcome development that eases and speeds up the process for our passengers who wish to stop in Saudi for up to 96 hours on the way to their final destination."