Perfume Layering: What Is It All About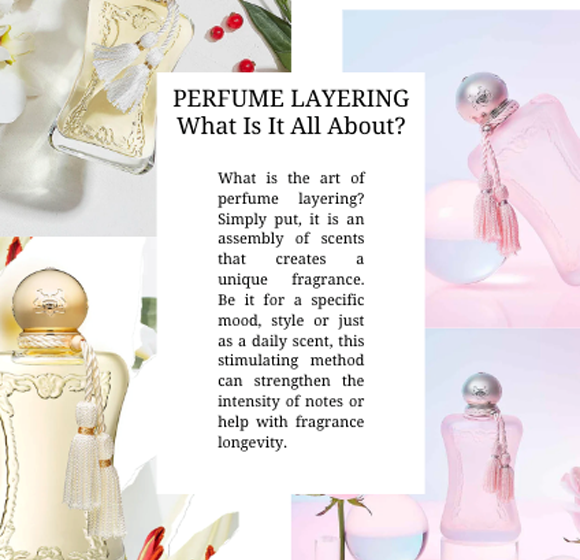 What is the art of perfume layering? Simply put, it is an assembly of scents that creates a unique fragrance. Be it for a specific mood, style or just as a daily scent, this stimulating method can strengthen the intensity of notes or help with fragrance longevity. Although, fragrance layering is more challenging than spritzing a few perfumes by chance and hoping the scent turns out gorgeous.
The easiest way to curate a one-of-a-kind scent is to mix products with similar notes – whether top, middle or base notes; as long as they have something in common, they usually go well together. The more you get used to layering fragrances, the more you can tweak this step and get adventurous with opposite notes.
The most common places to wear scents are the pulse points behind the ears or wrists. These areas are usually warmer, allowing the smell to almost "melt" better onto the skin. Unfortunately, most people make the common mistake of rubbing the skin to apply the fragrance. Instead, dab the product on to avoid dispersing the perfume's notes, which distorts the scent.
Begin with the stronger scent first to avoid overpowering notes later in the process, such as patchouli, jasmine, or even warm and spicy perfumes. Once you have your base fragrance down, floral scents such as rose and orange blossom or even clean scents are great mixers – because these perfumes are often soft and subtle but still add an element of complexity.
Fragrance layering is an art form, and when done right, it creates a unique sensory experience, and maybe this is just what you need for a style refresh.
Want to try it out? Begin with Parfums de Marly's Meliora, a delicate cocktail made from fruit and flowers that oozes romanticism – with notes of roses, jasmine tea, and ylang-ylang; it releases a floral scent that stirs and enchants the mind. The freshness of blooms found at the heart are further enhanced through sweet vanilla, musk, and cedar wood essence at the base. Then layer on Delina La Rosée – the younger and more vibrant Eau de perfume of the olfactory signature of Delina. A blend of transparent water flowers with hints of peony, this touch of freshness delicately brightens the skin.