Luxorious Villas at Sharm El-Sheikh, Golf Villas by by Rixos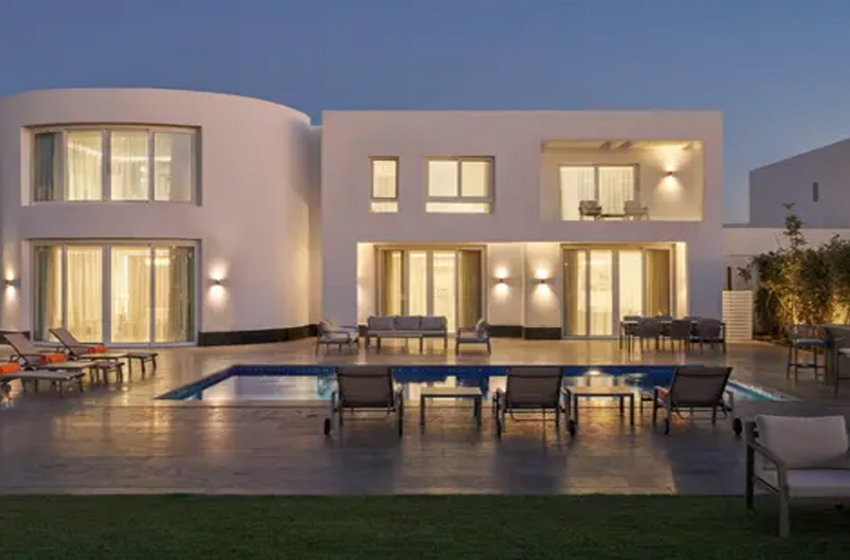 Golf Villas Sharm El-Sheikh by Rixos…
If you want to spoil your family & friends
You have to book a stunning Villa at Golf Villas by Rixos in Sharm El-Sheik – Egypt.
Sharm El-Sheikh is a port and resort city in the southern part of the Sinai Peninsula.
It is one of the most popular tourist destinations in the Arab world.
People from around the world are coming there to enjoy many activities. Sharm El-Sheikh is known for its dive sites, attracting experienced divers and recreational divers from all over the world who rush to discover its incredible marine life.
The city has the best resorts for those who want to relax and unwind under the sun, enjoy water sports, enjoy the city's culture and attractions, and taste delicious cuisine in the best cafes and restaurants. A lesser-known but no less incredible side of Sharm is its mountainous region of Mount Sinai and the colorful canyon, where there are scenic hikes and thrilling ATV adventures among the sprawling dunes and hills.
Now let's have a look at the Amazing luxurious Villas.
The hotel is located in the city's heart, conveniently near the International Convention Center, 5 kilometers from the airport, and 5 kilometers into the main attraction tourist hub Naama Bay.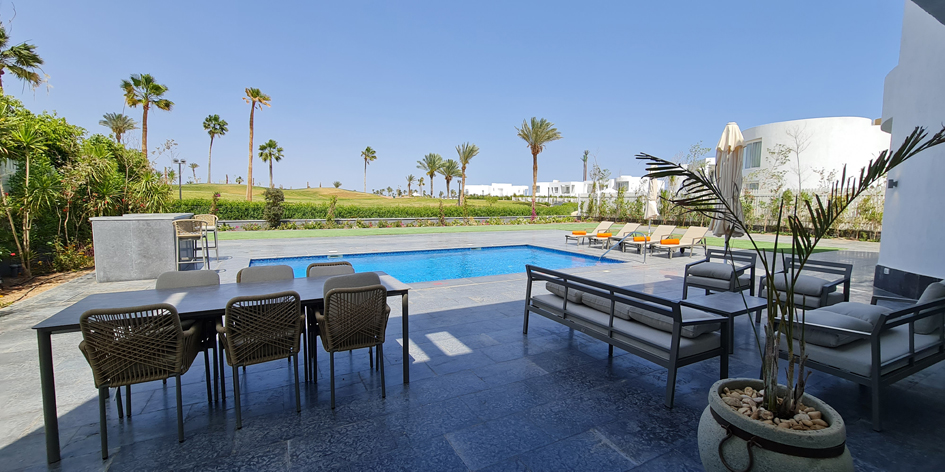 They have three kinds of Villas:
* Presidential Villa
* Queen Villa
* Royal Villa
We stayed at the two-story Royal Villa, which offers complete privacy and luxury with all modern conveniences.
The villa is designed with style, comfort, and exclusivity in mind, where guests can enjoy modern decor and amenities, as well as a private pool and sunbathing deck.
The villa we stayed in had one bedroom on the ground floor & 5 bedrooms on the first floor, all with a TV. Different sizes & decors all were so nice you would think about which one to choose.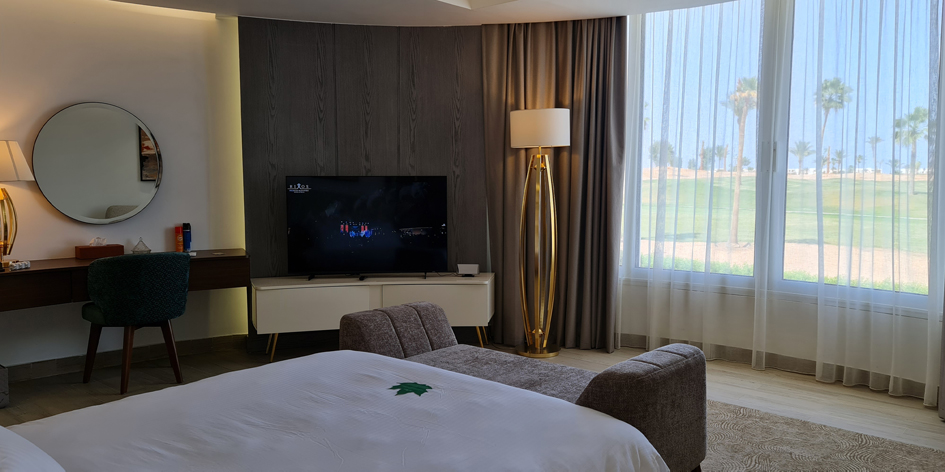 I have chosen the bigger one of course with the semi-round window looking over the private garden & the private swimming pool.
Downstairs you will have a big living room with a dining room near it.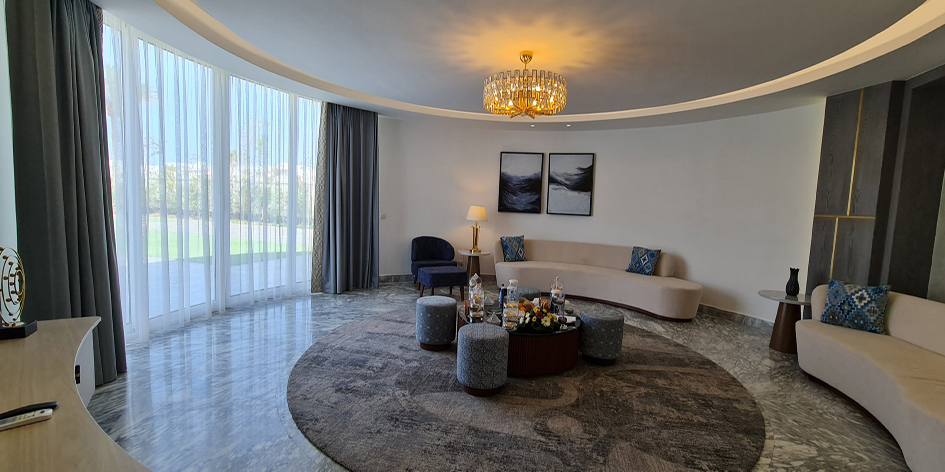 The kitchen was so big and equipped with everything that you could imagine and might need; coffee machines, a tea station, and a big fridge filled with many drinks & sweets.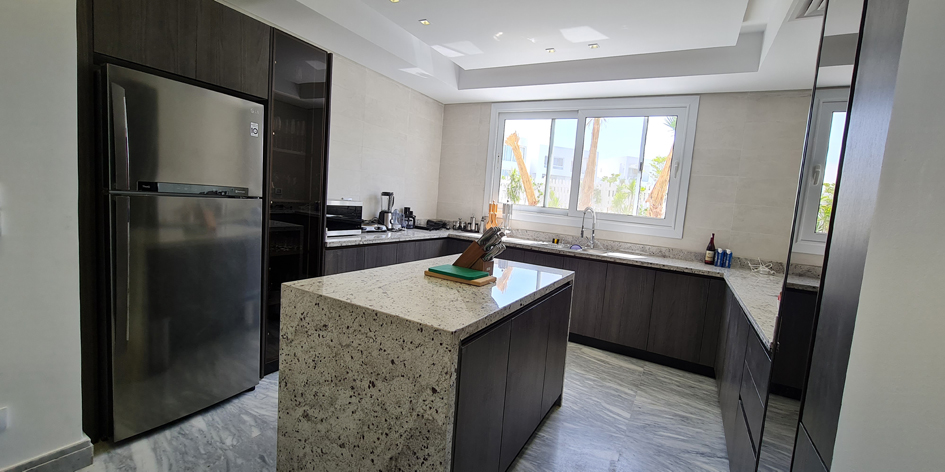 You can be transported from the lobby to the Villas by buggy cars.
The service is very quick all the time.
The bed was so comfortable I woke up feeling fresh, relaxed & ready to continue my day, but I had to have a luxurious breakfast first.
I called reception to send the buggy, and it took me to the main lobby; then, I had a luxurious yummy breakfast (Rixos Style).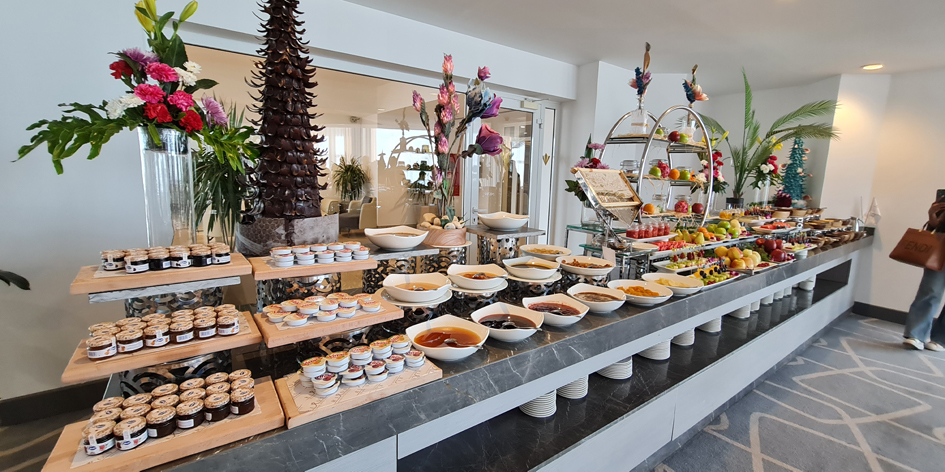 A lot of variety of salads, fresh veggies, fresh fruits, many kinds of Cheese, olives, pastries, hot food, whatever your tummy desires it's there along the fresh juices, tea, and coffee.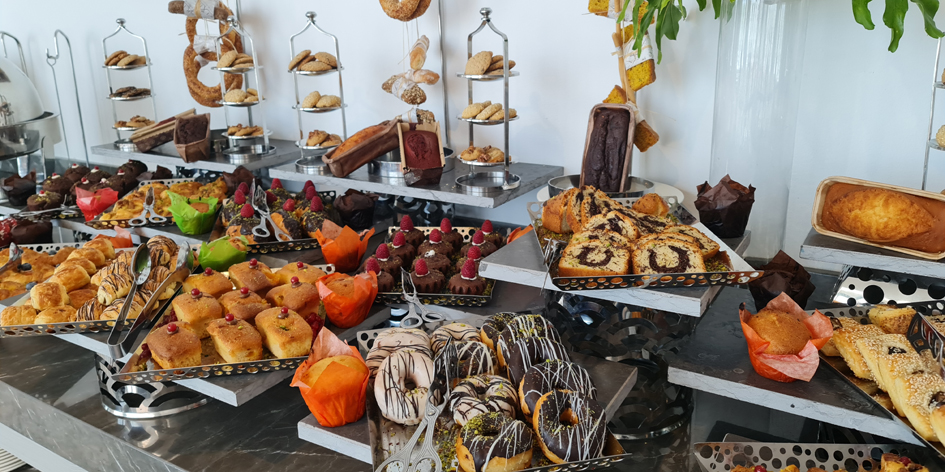 You can enjoy golf at the Golf Villas of Rixos, home to 18-hole courses spreading over an expansive area, surrounded by lakes and an oasis between the Red Sea and Sinai mountains.
STAY at 1. ENJOY at 3.
When you stay at Golf Villas Sharm El-Sheikh by Rixos, you'll have the unique and exclusive offer to access all facilities and services at Rixos Premium Seagate and Rixos Sharm El Sheikh (Adult Only – 18+) hotel.
And don't forget that at Rixos it's ALL INCLUSIVE..