Emirates Draw Launches FAST5: A Game-Changer Paving the Way for Extraordinary Lives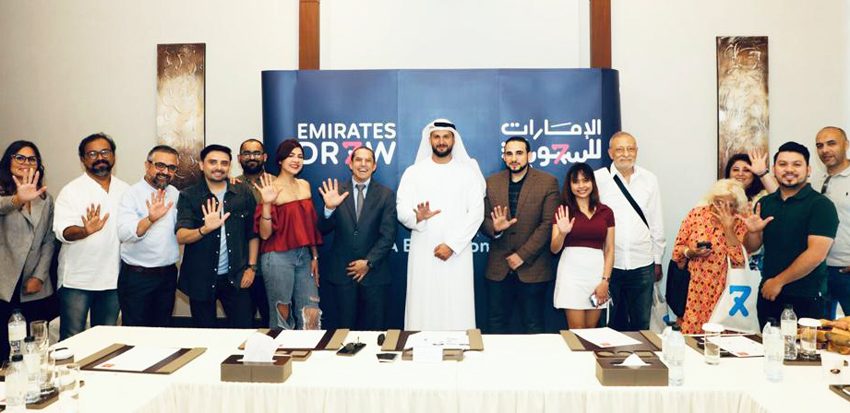 Helping Fast-Track a Nation to be the Happiest Place in the World.
Dubai, UAE 21 May 2023
Emirates Draw, the UAE's premier game operator, is once again elevating the gaming landscape with the launch of its latest game, FAST5, at a press conference last Friday. This ground-breaking addition offers participants the chance to win an impressive AED 25,000 every month for the next 25 years, all with just a single AED 25 ticket. FAST5 is more than just a game; it's an incredible opportunity to fast-track dreams and unlock a world of possibilities.
Emirates Draw goes above and beyond to amplify the thrill of gaming. This means participants not only compete for the life-changing Grand Prize of AED 25,000 every month for 25 years, but also can win could win substantial amounts of AED 75,000, AED 50,000, and AED 25,000 each in the Raffle Draw three participants. Every ticket is a two-in-one opportunity, expanding the potential to claim victory and change lives.
Alongside the launch of FAST5, Emirates Draw continues to run its flagship games, MEGA7 and EASY6, offering a Grand Prize of AED 100 million, the largest prize across the Middle East, Africa, and Asia, and the easiest game to play at AED 15 with a Grand Prize of AED 15 million respectively. Building upon the success of its existing games, Emirates Draw now provides participants with an unparalleled opportunity to play three exciting games every week. This significantly enhances their opportunities to win and sets the stage "For A Better Tomorrow." FAST5 will take place every Saturday at 9 pm UAE time, with the first game set to be broadcast live on May 27, 2023.
Why choose FAST5?
The name itself captures the game's dynamic nature and its ability to rapidly transform lives. Participants only need to select 5 numbers out of a pool of 42 balls, a game format that significantly increases the odds of winning compared to all other 5-ball draws. This innovative approach is a game-changer, designed to provide unparalleled stability and security, ensuring worry-free lives for every winner.
Winning the Grand Prize of AED 25,000 every month for 25 years, opens a world of possibilities, allowing winners to fast-track their dreams and turn ordinary lives into extraordinary ones.
Commenting on the launch of FAST5, Paul Chader, Head of Marketing at Emirates Draw, enthusiastically expressed, "We are absolutely thrilled to unveil our third game, FAST5, as a resounding testament to the incredible success and unwavering support we have received since the introduction of our initial games, MEGA7 and EASY6. It is a one of kind game that goes beyond entertainment; it serves as the master key to limitless opportunities where players hold the power to shape their future and pursue their dreams. With FAST5, accessible through a modest AED 25 ticket, players have the opportunity to transform their entrepreneurial dreams into reality, own their dream home without the burden of a mortgage, and contribute to causes that deeply resonate with their heart. This extraordinary game unlocks a world of opportunities, granting a stable income stream to winners from all walks of life, empowering them to clear any barriers that may stand in their way. This remarkable game addition signifies another milestone in our mission to give back to our players."
Emirates Draw has meticulously crafted the branding of the new game, with the captivating blue colour chosen for the FAST5 logo symbolizing expansive blue skies and vast oceans, representing freedom, exploration, and boundless opportunities. It also reflects trust and loyalty, underscoring Emirates Draw's unwavering commitment to its players.
With a steadfast commitment to creating opportunities for all, the organisation not only offers weekly prizes to individuals but also gives back to the community through its flagship Coral Reef Restoration Programme (CRRP), all while contributing to a better tomorrow.
How to Play FAST5?
If you're new to Emirates Draw or looking for information about FAST5, here are the details:
Entrants can participate in the FAST5 draw by purchasing an AED 25 ticket on the official Emirates Draw website www.emiratesdraw.com or through the app, available on both Android and Apple stores.
Every purchase supports planting coral fragments as part of the organisation's leading social and environmental responsibility programme in line with the UAE government's ongoing commitment to environmental sustainability and conservation.
After registering online or the app, participants select their preferred five-digit numbers from a pool of 42 balls or opt for the system to choose their numbers randomly via the 'Quick-Pick' button. Participants have the option to choose the current draw or opt for 'Multiple Upcoming Draws,' allowing them to select up to five consecutive weeks (5 drawings) in advance.
Book your numbers early and be a part of the action first-hand this Saturday, May 27, 2023, at 9 PM UAE time on Emirates Draw's digital platforms, YouTube, Facebook, and the official website, for a live stream that will bring the excitement right to you.
For more information, call the toll-free number 800 7777 7777 or visit www.emiratesdraw.com and stay tuned with the latest updates by following Emirates Draw on social media platforms @emiratesdraw.