ANYbotics and Sigma Enterprises Announce Partnership in UAE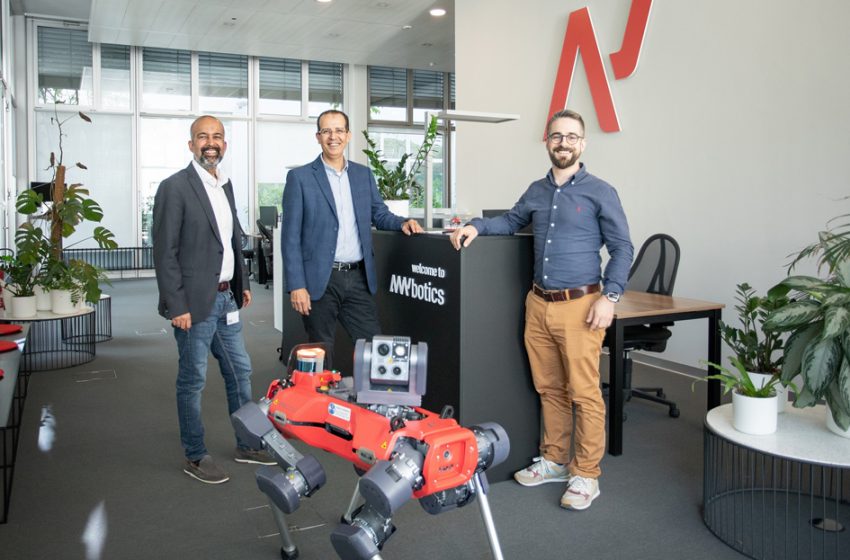 Scaling autonomous inspection for large facility operations within the Oil & Gas, Power, Chemicals, Metals, and Transportation sectors
Abu Dhabi~Zurich, 18 September 2023 – ANYbotics strengthens its presence in the Middle East, appointing Sigma Enterprises as a reseller partner for the UAE. Sigma Enterprises, part of the privately-held diversified holding company Mazrui International, will increase inspection robot deployment in the region's oil & gas, power, chemicals, metals, and transportation sectors. ANYbotics' advanced mobile robots perform autonomous inspections, asset monitoring, and anomaly detection in complex industrial environments. Sigma Enterprises will offer the ANYmal inspection solution, support services, customer training, and technical expertise. The partnership and ANYmal will be showcased at ADIPEC 2023 (International Petroleum Exhibition and Conference) in Abu Dhabi, October 2-5.
Marwan Moubarak (center, MD, Mazrui Trading and Sigma Enterprises) with Satschin Bansal (left, VP Partnerships) and Dr. Péter Fankhauser (right, CEO) from ANYbotics, during a recent visit to ANYbotics at their head office in Zurich.
Bringing Automated Inspection to Ex-zones in the UAE
ANYbotics' collaboration with Sigma Enterprises (part of the Mazrui Group) underscores the demand for industrial robotic inspection in the region, particularly in the oil & gas and power sectors. Sigma Enterprises and ANYbotics have combined their automation and advanced-legged robotics expertise to provide unparalleled industrial inspection solutions. By leveraging local expertise, industry networks, and proximity to key players delivered through Sigma, ANYbotics can better address the specific needs of production facilities, improve customer support and build a strong position in this crucial market.
"As part of the Mazrui Group, Sigma Enterprises provides one of the UAE's best-in-class calibration and technology support services. Growing ANYbotics' presence in the region and focusing on expanding our partner network with accomplished reseller partners like Sigma Enterprises are strategic initiatives that drive our growth, increase market penetration and accelerate the global adoption of our robotic inspection solutions."
— Satschin Bansal, Global VP Strategic Alliances & Partnerships, ANYbotics
Transforming the Regional Inspection Ecosystem with Cutting-edge Robotic Technology
With the addition of ANYbotics' robots to its portfolio and the introduction of state-of-the-art robotic inspection technology in the region, Sigma Enterprises is changing the inspection landscape. ANYbotics' inspection solutions increase safety by reducing worker exposure to hazardous environments, improve predictive maintenance through early detection of equipment anomalies, and optimize production through more accurate and frequent data collection.
ANYbotics' advanced autonomous robots are designed to perform autonomous inspection, monitoring, and anomaly detection tasks in diverse and complex industrial environments. They provide immediate added value by integrating as an end-to-end solution with asset management software and digital twin platforms that enable customers to automate inspections easily.
Leveraging its extensive experience in oil & gas, power generation, and utilities, Sigma Enterprises offers ANYmal and ANYmal X inspection solutions including a range of local support services, customer training, and technical expertise to ensure successful implementation and operation.
"At Sigma, we are proud to work with world-leading technology brands from America, Europe, and Japan, among others. By partnering with ANYbotics, Sigma Enterprises can leverage its expertise in advanced technology to expand its offerings and provide effective solutions to its customers."
— Marwan Moubarak, Managing Director, Sigma Enterprises LLC
ANYmal – Revolutionizing Industrial Inspection
ANYmal is a rugged, autonomous, highly mobile inspection solution with ready-to-use payloads and a leading non-Ex inspection robot. As the world's only Ex-certified legged robot solution, ANYmal X combines the performance of ANYmal and is the world's only Ex-proof legged robot for safe use in hazardous and potentially explosive atmospheres.
Whether automating repetitive tasks, performing detailed inspections in hard-to-reach areas, ensuring safety compliance, or monitoring environmental parameters, ANYmal and ANYmal X are the leading robotic inspection solutions for the oil & gas, chemical, and power sectors.
See ANYmal, ANYbotics and Sigma Enterprises in Action
The ANYbotics – Sigma Enterprises partnership and ANYmal will be showcased at ADIPEC 2023 in Abu Dhabi, October 2-5. More than 2,200 companies worldwide, representing the entire energy ecosystem and beyond, will gather at ADIPEC to showcase the latest strategies and innovations defining tomorrow's energy. This makes the event an ideal platform to showcase ANYmal's capabilities.
ANYmal's presence at ADIPEC will allow industry professionals to learn firsthand how robotic solutions can improve efficiency, safety, and productivity. Demonstrations will showcase ANYmal's potential applications in plant inspection, asset monitoring, and environmental tasks.
Visit ANYbotics and Sigma Enterprises at the Marzui Energy Services booth (Hall 01, # 1130) or book an ANYmal demonstration at ADIPEC 2023.