Get Ready for Cuteness: SHEGLAM and Care Bears™ Unite for a Heartwarming Makeup Collection!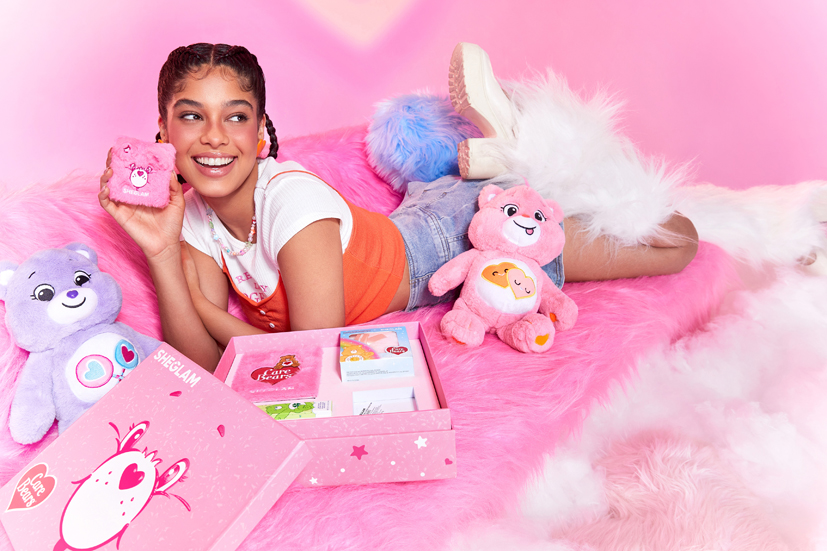 Get Ready for Cuteness: SHEGLAM and Care Bears™ Unite for a Heartwarming Makeup Collection!
October 30, 2023 – Prepare for an overdose of cuteness! SHEGLAM is teaming up with Care Bears™ to unveil a heartwarming makeup collection. From eyeshadows to blushes to vibrant colored eyeliners, this collection has everything you need to create a lovely makeup look that warms your heart. It instantly transports you to the lovable Care-a-Lot world. It's the ultimate kit to create makeup looks that warm your heart and are as huggable as the Care Bears™!
Immerse yourself in positivity with the Care Bears™ x SHEGLAM Share Your Care Palette! Inspired by the cheerful spirit of Cheer Bear™, this enchanting palette features 12 highly-pigmented shades, including silky mattes, frosty shimmers, and slick foils, all expertly crafted for seamless blending. Craft the ultimate hug-worthy glam with this versatile palette that's more than just makeup; it's a soft, plush masterpiece you'll treasure.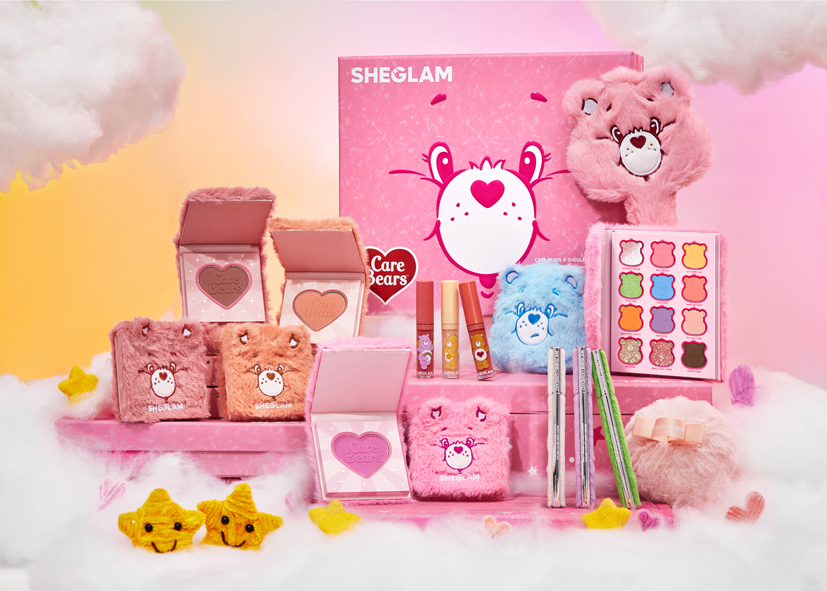 Each highly-pigmented and blendable blush in our Cuddle Time Powder Blush collection delivers a sweet, long-lasting cheek flush. Choose from three charming options to match your mood and style. Thrill Seeker brings excitement to your look with vibrant cheeks, Fab-U-Lous for a superstar glow, and Tickled Pink for a charming, rosy warmth. The blushes' charming plush packaging makes them irresistibly adorable and display-worthy with friends!
Enhance your smile with our Share a Smile Liquid Lipstick Set. This stunning set includes three shades to elevate your natural beauty. Enjoy long-lasting, non-sticky mattes with Perfect Harmony and Love-a-Lot, and add the finishing touch with Get Your Shine On, a pearlescent high-shine gloss. Wear each shade solo for a lovely lip look or mix our mattes with the gloss for a custom, cheerful pout. With this set, your lips take the center stage in your look.
The Sweet Wishes Colored Eyeliners are here to make your eyeliner dreams come true without wishing upon a star! With jam-packed bright and vivid pigments, these matte liquid eyeliners instantly create a bold, stunning flare of color to your glam. Additionally, each eyeliner features a soft and fuzzy design on the pen body, providing a warm and cozy touch while you apply your makeup.Whether you're creating graphic designs or small doodles, they will help you achieve any look you're going for.
Step into a world of shimmering enchantment with our Catch Some Fun Highlighting Puff, a revolutionary magic ball that lets you effortlessly embrace both softness and sparkle! A gentle tap from its soft puff is all it takes to unleash a radiant glow that's as soft as a cloud and as dazzling as starlight. Take a cue from Funshine Bear™ and get ready to light up your day and night with our Catch Some Fun Highlighting Puff. Whether it's a night out on the town or an exciting festival, let the magic of softness and shimmer come together to create unforgettable moments of sparkle and fun!
We are delighted to introduce you to the enchanting world of the Care Bears™ x SHEGLAM Collection Set. This collaboration invites you to step into a realm filled with cuteness and positivity, where makeup becomes a canvas for expressing your inner warmth and love. Plus, with our exclusive set, you'll receive an irresistibly adorable, fuzzy Care Bears™ Makeup Mirror.
Visit SHEGLAM today to transport yourself to the lovable Care-a-Lot world and create looks that are as huggable as the Care Bears™ themselves. Join the magic of SHEGLAM x Care Bears™ and start creating makeup moments that are too cute to resist!
SHEGLAM LINK:https://www.sheglam.com/collections/care-bears-x-sheglam