Al Khoory Hotels joins efforts with Emirati business partner Heritage Express to offer insight into the authentic Emirati culture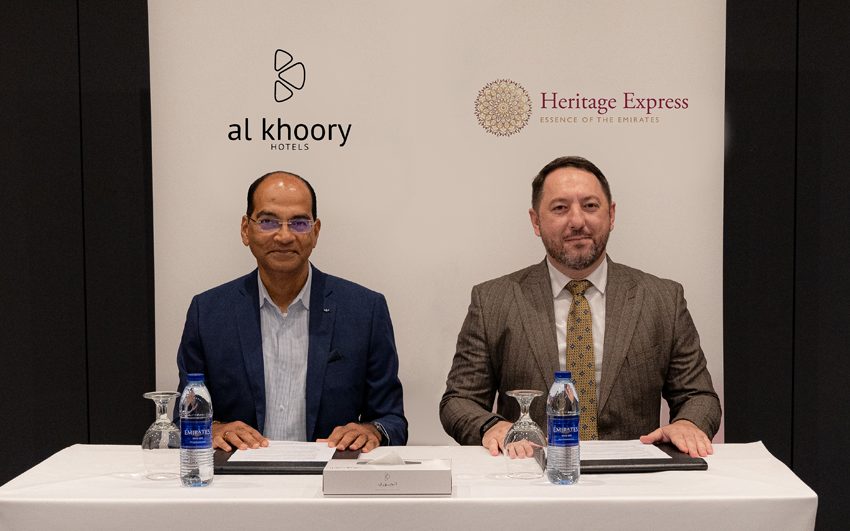 Dubai, United Arab Emirates (November 2023) – Al Khoory Hotels, a local family-owned brand and distinguished provider of exceptional hospitality experiences aims to provide guests with an authentic experience of its hometown. As part of its cultural values, Al Khoory Hotels joins efforts with Heritage Express, a local tour company, to enhance the guests' experience by providing the opportunity to explore Emirati culture through curated tours and activities.
Heritage Express is the only tour provider in the UAE with exclusive, fully trained Emirati Cultural Ambassadors. It conducts unique tours that allow guests to experience the fascinating aspects of the Emirati culture by retelling stories, recalling historical milestones, providing the space for an open conversation, and gathering around delicious dishes from the local cuisine.
Al Khoory Hotels guests can avail exclusive rates when booking Heritage Express tours through Al Khoory Hotels. This will allow visitors to have a close look at the rich Emirati culture and embark on an immersive journey that begins with a discussion between a cultural ambassador and a Bedouin explaining the realities of desert life followed by a bus tour around significant landmarks of old Dubai including Al Fahidi Fort in Al Fahidi area which holds a sentimental value to Al Khoory Hotels owners, Dubai Abra, Al Shindagha, Union House, and others.
Al Khoory Hotels highly recommends this Heritage Express tour which ends with an authentic Emirati meal at Sheikh Mohammed Bin Rashid Al Maktoum Centre for Cultural Understanding coupled with a rich discussion and an open Q&A session leaving guests enlightened, culturally enriched, and ready to reveal the story of Dubai with confidence and understanding.
The partnership includes Al Khoory Sky Garden Hotel, situated on the Airport road, and offers transiting guests a chance to encounter a unique cultural experience during their short time in Dubai.
Al Khoory Courtyard Hotel, which is located in Al Qouz, and Al Khoory Atrium Hotel, in al Barsha also offer this exceptional experience at a competitive price. Guests booked in groups of ten can also have the privilege of being picked up and dropped back to the hotel. The tour option is provided from their 3-star properties as well, including Al Khoory Executive Hotel, Al Badaa, and Urban Al Khoory Hotels, Al Qouz.
For more information or reservations, please contact Al Khoory Hotels at +971 4 314 6200, WhatsApp at +971 50 500 6611, or email: reservations@alkhooryhotels.com . Visit the Al Khoory Hotels website at https://alkhooryhotels.com, https://www.instagram.com/alkhooryhotels/