RHEEM MIDDLE EAST LAUNCHES NEW VRF SERIES FOR THE MEA MARKET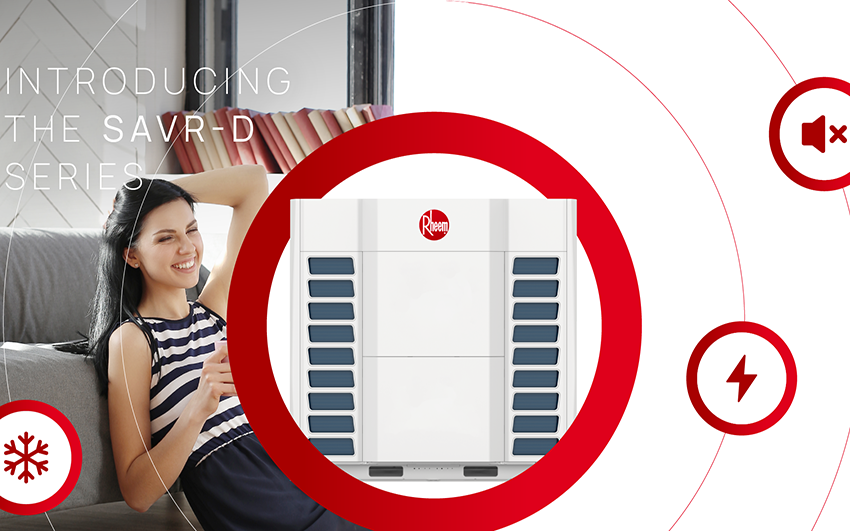 Rheem's SAVR-D series delivers total control, comfort and efficiency, ultimately leading to enhanced well-being and substantial savings for both end users and building owners.
Dubai, UAE, November 6th 2023
Rheem Middle East, a global leader in manufacturing innovative and energy-efficient HVAC and water-heating solutions, has introduced a new series of Variable Refrigerant Flow (VRF) units to its already extensive portfolio. Designed with innovative technologies and unique features, Rheem's SAVR-D series enhances energy efficiency, optimizes performance, and maximizes indoor comfort for end users.
VRF systems have surged in popularity over the past decade due to their superior energy efficiency and reduced seasonal energy consumption. This is accomplished through precise temperature control, operation based on demand, and minimizing the refrigerant path, collectively leading to cost savings of more than 30%. However, the SAVR-D series introduces multiple distinctive features that further elevate this level of efficiency.
The leading attribute is its unparalleled capacity. Offering 15 basic models ranging from 8HP to 36HP and enabling a maximum combination of 144HP, a single SAVR-D unit matches the performance of two industry-standard units. With fewer units required, there's the advantage of space efficiency, simplified installation, and lower operational expenses.
Another pivotal feature is the incorporation of backup operation technology. In case of a breakdown within a module unit, an emergency mode can be configured, enabling the other modules within the same combination to continue functioning as usual, without any disruption for occupants. This redundancy extends to the compressor and fan motor: should one malfunction, another component within the unit can seamlessly shoulder the additional workload, ensuring uninterrupted operation. The enhanced reliability and minimal downtime offer property owners peace of mind, acting as a safety net that ensures consistent functionality and comfort.
Then, there is also the cutting-edge six-step oil separation technology. While oil is necessary to ensure the proper lubrication of the compressor, it can contaminate the refrigerant flow as a result of oil migration, leading to decreased heat transfer efficiency, potential compressor damage, and system malfunctions. Rheem's SAVR-D series oil separators effectively collect and return oil to the compressor, ensuring the refrigerant circulating throughout the system remains relatively oil-free. This particular feature enhances efficiency by optimizing heat exchanger operation, diminishing compressor strain, consequently prolonging the unit's lifespan, and reducing maintenance costs.
Brian Hempenstall, Managing Director at Rheem Middle East commented: "At Rheem Middle East, we are committed to producing high-quality, innovative products which address and solve the major challenges in the HVAC industry today.
With the launch of our VFR range, we are proud to continue this dedication to sustainability-focussed HVAC solutions which optimize comfort, reduce energy consumption and, ultimately, increase cost savings for our customers, with no compromise on quality."
For more information, visit: https://www.rheem-mea.com/products/air-conditioning/vrf/savr-d/